Russian Avant-Garde Theatre: War, Revolution and Design, 1913-1933

Victoria & Albert Museum in collaboration with the A A Bakhrushin State Central Theatre Museum Moscow
Victoria & Albert Museum London
–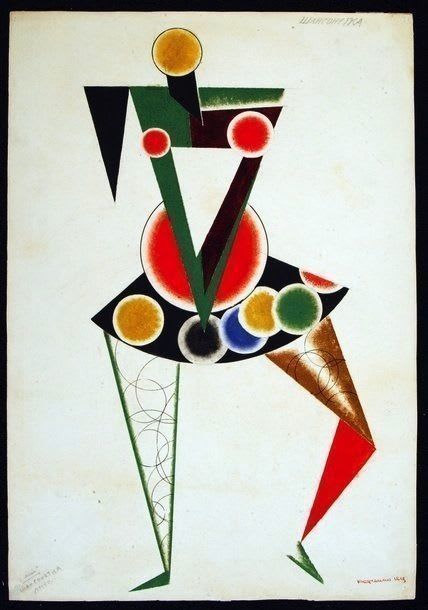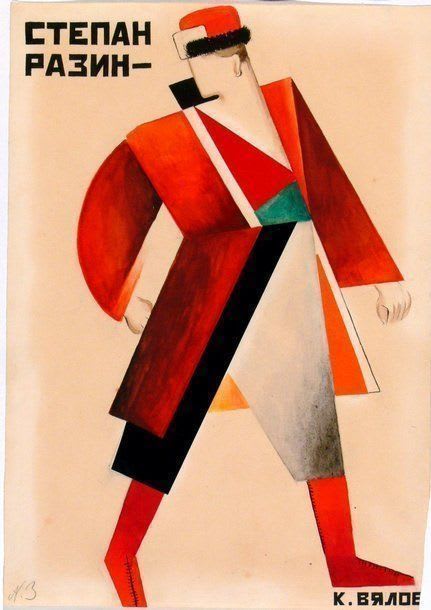 As the Malevich exhibition at Tate Modern closes, another door opens in the V&A's Theatre and Performance Galleries on a vibrant and energising Russian Avant-Garde Theatre exhibition, an exciting collaboration of London's Victoria & Albert Museum with Moscow's A A Bakhrushin State Central Theatre Museum, supported by the Russian Ministry of Culture.
More than 150 stunning examples, a few from the V&A collection but most from Moscow, of theatrical production designs from a two-decade period that saw visual artists, directors and choreographers (Kasian Goleisovsky) turning their talents to ground-breaking stage design, be it for plays, ballets, opera or film sets, 'directors as designers, designers as directors'.
My companion thinks this is a better exhibition than the Tate's Malevich... It certainly complements it and the V&A's 2010 Diaghilev exhibition: Natalia Goncharova the link with some of the women designers represented here: Alexandra Exter, Liubov Popova, Varvara Stepanova.
An Aladdin's cave, and coup for the V&A, but it must be said a drop in the ocean for the A A Bakhrushin State Central Theatre Museum—founded by its eponymous Muscovite industrialist in 1894—which today holds almost 1.5 million objects in its vast collection of Russian theatrical relics representing all genres of theatre.
Many of the stage designs have never been seen in the West before, though many of the names of the artists will be familiar: Kazimir Malevich, Alexander Rodchenko, Vladimir Tatlin, El Lissitsky, and more—some forty-two names listed.
1913-1933, an extraordinary period that tangled with the First World War, the Russian Revolution, and the NEP interlude before Socialist Realism clamped down. An iconoclastic optimistic opportunistic window of time in which everything seemed possible in an extraordinary exuberant burst of creative energy: out with the old, in with the new.
A symbiotic relationship between the arts was in full swing and theatre was often its playground, and boy, did they play: Vsevolod Meyerhold (to perish in Stalin's absurd purges) with his Biomechanics; Malevich making his first Black Square drawings for the Futurist opera Victory Over the Sun, its libretto written in a language 'beyond sense'—zaum.
Not just designs on paper, but maquettes, film posters and film extracts: a ten-minute clip of Sergei Eisenstein 1930 film, ¡Que viva México!, Alexander Rodchenko space-age designs for Vladimir Mayakovsky's Bedbug, Liubov Popova's wonderfully detailed model for Fernand Crommelynck's 1922 farce, The Magnanimous Cuckold, produced by Meyerhold, the list goes on.
Designs for productions of Lysistrata, Salomé, Phèdre, Georg Kaiser's Gas, The Death of Tarelkin, Eugene O'Neill's The Hairy Ape (with fourteen-minute film clip) and Desire Under the Elms, Chesterton's The Man Who Was Thursday, Hamlet, The Government Inspector… Is your mouth watering yet?
You will need a whole day to do justice to the vivid wealth on offer. But the good news is that the exhibition is free. The bad news is that it is a little cramped—space available must be an issue in the upstairs Theatre and Performance Galleries.
The concept seems to be that of a labyrinth, but a large crowd would make that concept difficult to navigate, so aim for a quiet time.
The narrow passage that leads into the maze of breathtaking images on the walls and models in glass cabinets reminds me of an Ilya Kabakov installation, a prologue that gently steers the conversation on the walls, Malevich and Tatlin confronting Exter and Valentina Mukhina (best known for her monumental Worker and Collective Farm Girl sculpture).
Their designs for Victory over the Sun and Ivan Susanin / A Life for the Tsar and The Flying Dutchman in a face-off with Exter's for Protazanov's 1924 sci-fi film Aelita (twenty-three-minute film extract), for Calderon's The Phantom Lady, and Mukina's for Alexander Blok's The Rose and the Cross.
One can barely take it all in—especially not in a couple of hours at a private view. I saw Sir Trevor Nunn peering closely at each exhibit. At that pace one needs to return again and again.
Labels, white on red background against red wall, are difficult to read. Many are placed low on the walls, and to bend down or squat in that initiating corridor is to invite involuntary collisions and apologies.
"Theatre is not a mirror, but a magnifying glass" (Mayakovsky)—if you can't see the captions, let the exhibition speak for itself and do some preparatory homework. There is an attempt at structure, hastily assembled, but the overall impact is such a rush, that this matters not. "Art is the Apex of Achievement…" an LED quote from Malevich traces a path along the wall.
Russia Visualised, a yearlong part of the UK-Russia Year of Culture 2014, has much to celebrate: we must be extremely grateful for the dedicated work involved in its organization, and that political froideur has not upset the apple cart.
I have kept much back so as not to spoil that wow factor, but I must confess I almost succumbed to Stendhal syndrome.
There is an illustrated accompanying book with informative articles (including an interview with director Katie Mitchell and designer Vicki Mortimer on their current Young Vic Cherry Orchard production, its conventional design having little to do with the avant-garde) and artists' biographies (in alphabetical order not in order of exposition), a bibliography and endnotes, but no index.
Reviewer: Vera Liber