Rutherford and Son
Githa Sowerby
Lyttelton Theatre (National Theatre)
–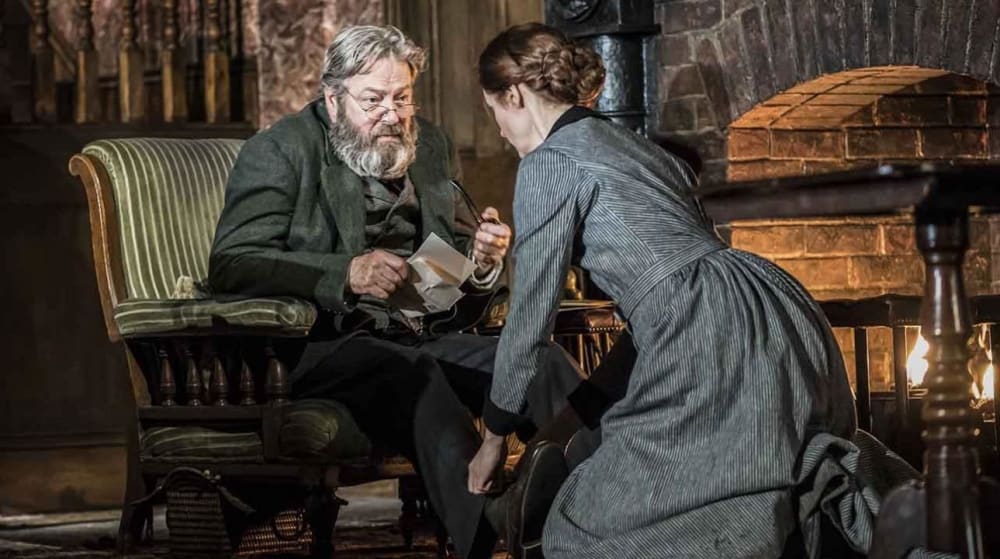 Although both the stage and the house in which the drama takes place are dominated by Roger Allam's John Rutherford, a tyrannical factory owner of the old school who would have felt at home in many an Ibsen play, it seems far more likely that the reason for this revival is the opportunity that Rutherford and Son gave repressed women to voice their feelings over a century ago.
On Lizzie Clachan's set, which depicts a North Country living room as claustrophobic as the atmosphere governing the members of Rutherford's family, the initial indicators show little promise of escape from the old man's heartless bullying.
Indeed, this latter-day King Lear treats his sons and daughters at least as badly as the workers in the family glass factory whose trade has been failing for seven long years.
Before Rutherford has even makes an entrance, his power and relentless obsession are amply described both in words and the fear that he clearly instils in every family member.
What Allam so capably illuminates is the strong moral foundation underpinning every action of a man who clearly believes that he has a mission from which he will never swerve.
Although his sister played by Barbara Marten accepts the status quo, at various points during a performance that runs to a little under two and three-quarter hours, a trio of brave women stand up to the patriarch in a way that neither of his weak sons has the guts to attempt.
The herald of feminine expression drives from an unexpected source. Sally Rogers is Mrs Henderson, the mother of a worker who has been dismissed for theft. Rather than being cowed by highly honed aggression that sees off almost everybody else, she stands her ground and leaves with head held high.
Rutherford's daughter Janet, played with great feeling by Justine Mitchell, is now in her mid-30s and has seen her life destroyed in the dubious name of familial pride. Having fallen in love with one of the workers—Joe Armstrong playing Rutherford's right-hand man Martin, breaching class distinctions that should have been immovable—she too delivers an epic speech with strong feminist overtones.
Finally, as the evening reaches its cathartic dénouement, Anjana Vasan as daughter-in-law Mary, a London incomer who achieves what her husband John Jr played by Sam Troughton did not have the courage to follow through, looks the old man in the eye and rewrites the rules of engagement promising a brighter future.
Polly Findlay has chosen to direct a traditional production that benefits from its patent authenticity and strong performances, taking viewers back to the North East in the early years of the 20th century, when class and profits mattered more than human feeling but change was on the horizon.
Some might wonder whether Rutherford and Son is a great play rather than merely a good one, but this gritty revival provides both a welcome history lesson and an opportunity to reconsider gender and generational battles with fresh eyes.
Reviewer: Philip Fisher