Saethu Cwningod / Shooting Rabbits
Chelsey Gillard / Jac Ifan Moore
Powderhouse / Sherman Theatre / Theatr Genedlaethol Cymru
Sherman Theatre
–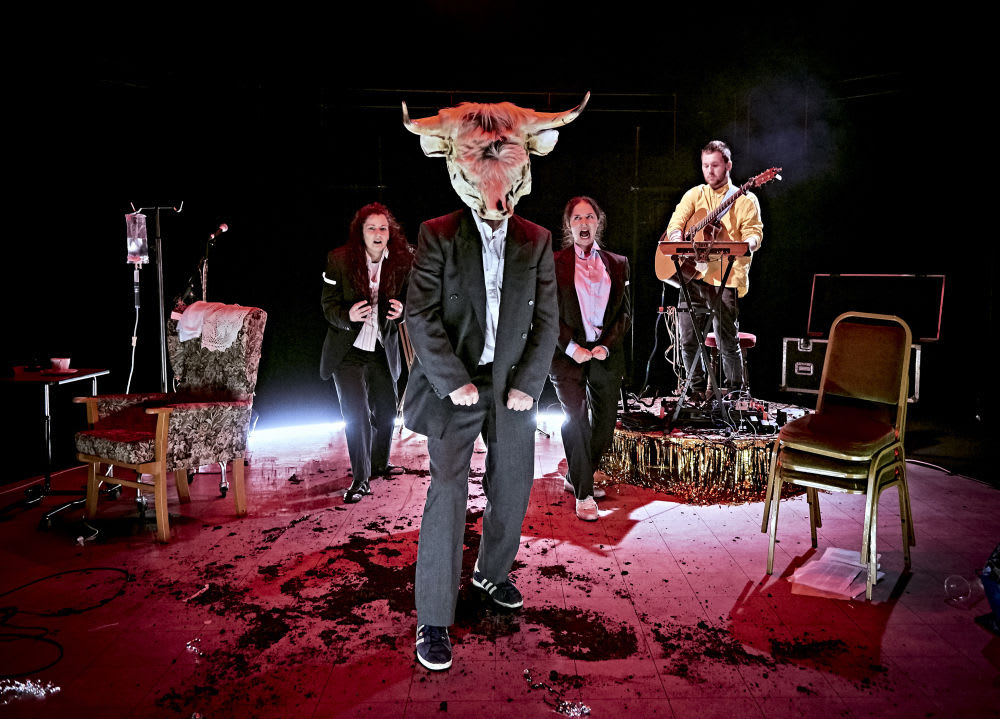 Fans of the Manic Street Preachers will be familiar with the line "If I can shoot rabbits, then I can shoot fascists", from their 1998 hit "If You Tolerate This Your Children Will Be Next", which was taken from a book which chronicled the experience of Welshmen going off to fight for the Republican cause in the Spanish Civil War of the 1930s.
This, the first production from Powderhouse, takes its title and inspiration from the same source. Those expecting a straightforward telling of the tale will, however, be confounded.
The dislocatory tone is set even before the show begins. Within the performance area (designed by Camilla Clarke), a small stage is set up as for an intimate musical recital; a young woman comes on and starts to tidy. She sits and watches as an actor enters, as though for an audition, and begins to converse with an unseen would-be employer.
He is asked to recite text from a Spanish Civil War memoir; asked, amusingly, to vary his Northern Irish accent; asked to repeat testimony played to him through headphones; assured that the Welsh stand with the Irish in their struggle against imperialism.
Over the next hour or so, a number of vignettes are played out: an old man in a nursing home reminisces about his time in Spain; a Spanish actress takes on the role of General Franco, at first unwillingly, then with alarming gusto; a trio of young people dance with abandon in a Balearic nightclub—creating a patchwork of impressions reflecting the confusion inherent in both war and politics.
The action is bound together by the excellent live score, played on-stage by Sam Humphreys on acoustic guitar and electronics and comprising elements of flamenco, classical music and dance-floor chill-out; but occasionally drowning out the dialogue, despite the actors' use of microphones.
The reliably impressive cast—Neal McWilliams, Gwenllian Higginson and Alejandra Barcelar Pereira—perform in English, Welsh, Spanish and Basque (often simultaneously). The language of movement is also prominent—there are several lengthy dance interludes, sometimes plainly evoking hedonism, sometimes militaristic action, sometimes the hell of war; but for long stretches, their intention is unclear (no choreographer is credited).
The technical aspects are very well-handled—Katy Morison's lighting and Sam Jones's sound design are highly effective in bringing to life the horror of aerial bombardment. The visuals are striking—the sudden appearance of a bull's head towards the end is suitably nightmarish.
The piece, written by co-directors Chelsey Gillard and Jac Ifan Moore, seems at its strongest when closest to its source material; outlining a committed young man's determination to leave the coalmines behind for something more exotic and scarcely less life-threatening, the adventure of travel to London and the European mainland, the comradeship he experiences, and his ultimate disillusionment.
While one applauds the ambition displayed in this production, it seems to suffer from a lack of focus—surely the story of the protagonist travelling, of his own volition, to take part in a foreign war, is sufficiently dramatic in itself, without being embellished with experimental innovations; and contemporary echoes seem to go unexplored, other than during the parodically blood-drenched climax.
Saethu Cwningod / Shooting Rabbits is bold, clever and never less than eye-catching; but perhaps a little more faith in the basic narrative would have led to a more emotionally involving experience.
Reviewer: Othniel Smith