Saint George and the Dragon
Rory Mullarkey
Olivier Theatre (National Theatre)
–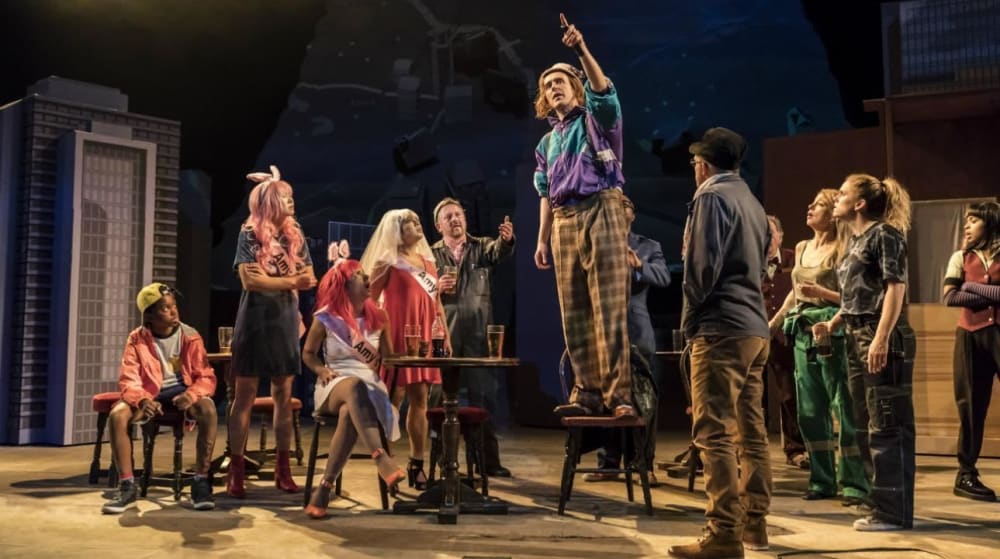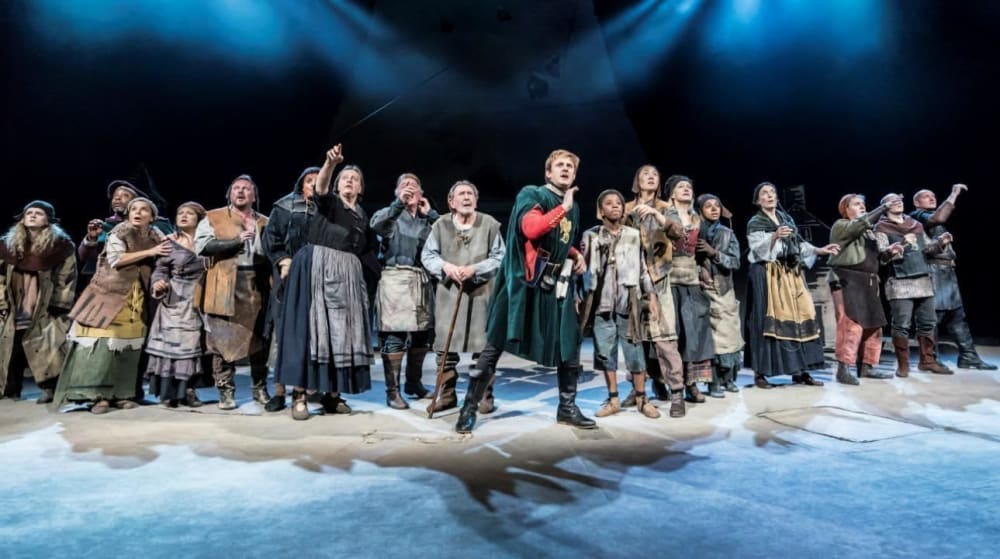 As befits a work about the travails of our patron saint, Saint George and the Dragon is a big, sprawling state of the nation play.
If that sounds overly serious then, at least on the surface, such an assumption would be incorrect. For much of the 2¾-hour running time, the tone is closer to Blackadder or even Monty Python's Flying Circus and dare one say it Richard Bean's controversial England People Very Nice than some worthy historical epic.
The evening opens with a cod-Chaucerian prologue delivered by John Heffernan's George, at that time an aspirant medieval knight with flowing hair in shining armour, who embarrassingly failed in his first quest and seems destined for perpetual nonentity.
However, George gets a second chance after meeting Charles, played by Gawn Grainger, a good man whose daughter Amaka Okafor as Elsa is poised to become a human sacrifice for a fearsome and very hungry triple-headed Dragon.
Amusingly, when the villain appears, he is portrayed by Julian Bleach in (very camp) human form. While the body might be mundane, the threats are very real as Dragon ups the stakes, threatening genocide if George challenges him to a duel and loses.
After considerable, heartrending, strategic debate amongst the townsfolk, an airborne battle to the death is largely related by a commentating chorus, although designer Rae Smith does pull off an unforgettably explosive coup de théâtre.
Having solved the problems of the mediaeval world, the Knight seems to have little left to do other than claim his maidenly reward. Life is not that easy (nor are plays) and George finds himself returning in Dickensian times to fight the new, more symbolic Dragon of Mammon and his enslaving industrial revolution.
The debates and jousting may not be too different but by this stage, audience members will have begun to enjoy the comedy and spectacle while also reflecting on a liberal, almost soft socialist underlying message. Oddly but pleasingly, the best of the decision-making comes from Richard Goulding's oft-derided Henry, a gamekeeper turned poacher for the Dragon but more significantly a little Boy played with great assurance on press night by Reuel Guzman whose innocent wisdom surpasses that of his elders.
Following the interval, viewers are treated to a further re-run of the story updated to our own time. Now, sinister Dragon is ubiquitous, as corporate greed takes its toll on each and every member of society. In this context, the purpose and effectiveness of a Knight in shining armour are less clear-cut with ambiguity clouding his message, although not necessarily that of the play.
Director Lyndsey Turner might have been well advised to consider whether the text could have been cut, since the plotting can get a little repetitive even though the messages about England in the past and more particularly today come across loud and clear. On the plus side, there are some memorable scenes, especially the first duel and also a contemporary night out at a local boozer whose inhabitants could have stepped straight out of the scenes featuring Sir John Falstaff and his friends in Henry IV Parts I and II.
While the ambition behind this play may not be wholly fulfilled, as part of the Travelex £15 season, it is well worth a try.
Reviewer: Philip Fisher