Salad Days
Julian Slade and Dorothy Reynolds
Tête à Tête
Riverside Studios
–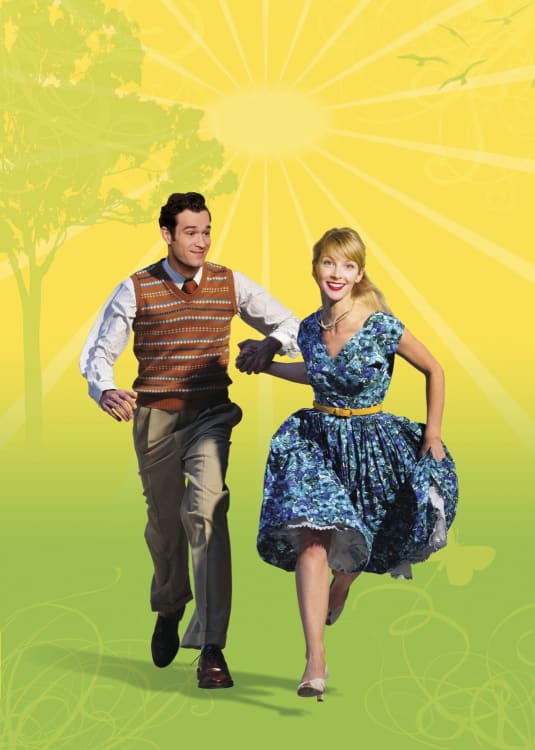 Tête à Tête, which started out life as an opera company, boasts of the fact that its revival of this ever popular musical relies on original instruments, reminding us all that amplification for music and voices is a relatively new phenomenon.
The company effortlessly proves that a couple of pianos (pronounced pee-ar-knows), a double bass and a drum kit plus a team of talented singers collectively need no artificial assistance to produce perfectly audible sounds that deliver the greatest pleasure.
This should be seen as a lesson to the typical West End musical performer who would not dream of getting on stage without a power pack strapped to their back and microphone protruding from their wig or ear.
Salad Days will celebrate its 60th birthday soon but, despite being very much of its period, it still has the necessary attributes to keep modern audiences happy—young love and a little fantasy accompanied by some perky song and dance.
The story is simple enough, Katie Moore's sweet Jane and rather dim Timothy played by Leo Miles come down from Oxford with no real prospects and no reason to meet again.
However, the appearance of a well-spoken tramp, in the form of Matthew Hawksworth, as well as his itinerant, wheeled piano Minnie, transform their lives.
Minnie is magical, able to set toes tapping and voices singing, especially when playing the incredibly catchy "Look at Me I'm Dancing" that sees Quinny Sacks's choreography, making great use of the space, at its best. This is one of those tunes that will inevitably remain whirring around in the head for days after a visit to the show.
The mischievous piano causes trouble too, leading to the boys in blue and even a bad-tempered Government Minister chasing after her temporary owners.
Jane and Timothy somehow survive, receiving doughty assistance from silent Troppo, Leo Boggess charming with the kind of mischievous behaviour that one came to expect from Harpo Marx.
Minnie even gets kidnapped, injecting the possibility of disaster while allowing the whole company to sing the second-best tune of the evening, "We're Looking for a Piano".
Before the end of the 2½ hours, the mystical element of the plot travels beyond a super-human piano to encompass visitors from outer space. This is a plot twist that adds little to the fun but does allow the versatile Tom Millen to swap a PC's outfit for the kind of costume more usually favoured by silver-faced glam rock stars.
What makes Bill Bankes-Jones's production so memorable is his well-chosen company, with the two leads both excelling in all three musical disciplines, while the enthusiastic supporting players sing and dance much more than capably on the imitation grass that fills the wide traverse space.
In particular, Kathryn Martin does a nice comic turn as Asphynxia, wittily singing Sand in My Eyes, while Ellie Robertson and Luke Alexander enthusiastically mirror the burgeoning love of the main duo, playing their friends Fiona and Nigel.
Salad Days is determinedly old fashioned in its efforts to return us to more innocent days but charms with tireless good nature and some unforgettable songs. As such, it should be a guaranteed Yuletide success, which will also have the ability to lift the depression during the long, cold days of January and February.
Reviewer: Philip Fisher