After Miss Julie
Patrick Marber
Salisbury Playhouse
(2009)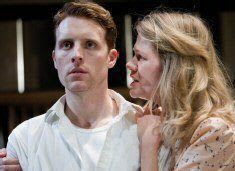 Patrick Marber's reworking of August Strindberg's classic work on class and sex, After Miss Julie, seems to have been well received on Broadway and enjoyed a successful run at London's Donmar Warehouse where it caught the eye of Philip Wilson, artistic director of Salisbury Playhouse who promptly included it in the programme for the current season.
Whether it will meet with the same success in Salisbury is a moot point. Heaven forefend I should suggest that intending patrons should first see the Strindberg original, yet some familiarity with the authentic Strindberg would undoubtedly do much to facilitate a fair wind.
My colleague at the Playhouse this week, who had probably barely heard of Strindberg let alone seen his work, confessed at the final curtain: "I am totally perplexed". As for recommending it to his bridge club (which he often does): "they would tear me apart!"
Of that last point I am not so sure. Ladies, who feature strongly in this club, are known to be attracted to drama about class and misbehaviour; hence their fondness for the work of Oscar Wilde.
More threatening to the popularity of this production in Salisbury however, is the verdict of two local year eleven students who saw it on first night and pronounced it "not suitable for our age group".
So if you think I regularly proffer simply the views of a tired old hack, then please think again!
In fact, with a couple of London productions of Miss Julie under my belt, I followed this fresh account, smoothly directed by Tom Daley, with comparative ease. For one thing, Marber sticks tightly to the plot saving only the transposition to an English country house on the night of Labour's 1945 landslide victory. A nice touch this, in the present climate.
Much praise to the performances of the three players, Christopher Harper, as the smooth-talking valet John, Lucinda Millward, in the title role, and Caroline Faber as the servant unfortunate enough to be, for the time being at least, in love with John. Sadly, in the last case, her sotto voce was rather too sotto for me and, I gather, other members of the house, too.
Nevertheless, all three bring warmth and real character to the evening helped, in no small measure, by Tom Scutt's intricate set which has us all following the wanderings of the actors around the house with interest.
Thankfully, there is little reference to elections or politics in general, that is, if you discount the central theme of class.
Whatever one's views about that, I have the feeling that Strindberg himself would enjoy this version - and this production in particular. After all, it is, like his original, provocative and nicely abstruse. One could hardly ask for more.
"After Miss Julie" continues at the Playhouse until Saturday 24 October
Reviewer: Kevin Catchpole