Salome
Oscar Wilde
Headlong Theatre and The Curve, Leicester
Hampstead Theatre
(2010)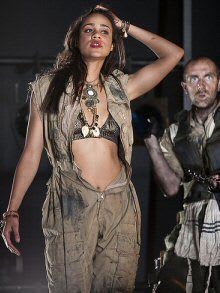 In the last few weeks, after a decade or more in the doldrums, In-Yer-Face Theatre has begun a spirited comeback under the auspices of Rupert Goold's ever-bold Headlong Company.
First, Anna Ledwich produced a wild new version of Lulu at the Gate and now Jamie Lloyd has turned Oscar Wilde into a post-apocalyptic shockfest.
This isn't the Wilde of The Importance of Being Earnest (in In-Yer-Face terms Mark Ravenhill got there long ago with Handbag) but the biblical tale of Salome.
If the heroine is known at all in these secular times, it is either as the inspiration for hundreds of classical paintings of a beauty with the head of John the Baptist or for dancing sexily with a family pack of disposable veils. Both loom large in this version, though little else of the story will be immediately recognisable.
The (of necessity) beautiful and talented Zawe Ashton plays Herod's stepdaughter as a constantly preening modern beauty - the clubbing type who delights in cut-down camouflage fatigues and appropriately blood-red lipstick.
This bold hedonist thinks nothing of taking on her lecherous stepfather/uncle, Con O'Neill conveying male desperation to perfection, despite the imprecations of Mum, Jaye Griffiths' shocked and wronged Herodias
The Princess and her people spend their lives in what looks like a dirty, derelict car park borrowed from any one of a thousand sci-fi movies and gorgeously side-lit by Jon Clark.
At its centre is a manhole cover from which biblical threats emerge from the mouth of the chained, bestial prophet Iokanaan (J the B's Hebrew name), played in a nice cameo by Seun Shote. He is a man guaranteed to put the fear of God into any man, in particular the scared King.
This sets up the main conflict of the play, as Herod has to choose between desire to see lovely Salome dance and his fear of the mad seer, or, more particularly, the prophet's heavenly master.
The play builds to a pair of scenes that could be interpreted as beautiful or terrible, meaningful or obscene depending on taste but certainly bring this short piece to a dramatic finale.
This type of theatre will divide opinion sharply. The odds are that the majority will vote against, either because they cannot understand what is going on at their night out with witty old Oscar Wilde or are genuinely shocked or outraged at the events depicted in a play that is bright red in tooth and claw.
Adherents will probably have a lot of fun, after some impenetrable early scenes. If this kind of thing appeals go and see it - you will have fun. If not, steer well clear.
Peter Lathan reviewed this production at Northern Stage, Newcastle.
Reviewer: Philip Fisher