salt.
Selina Thompson
Selina Thompson Ltd
Royal Court Theatre Upstairs
–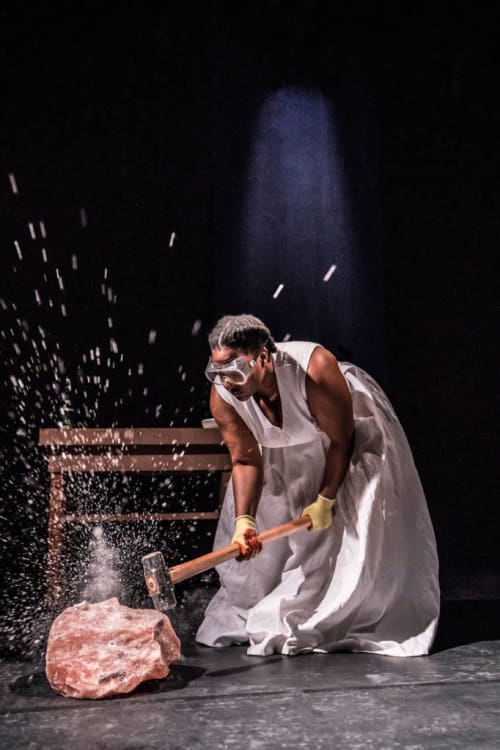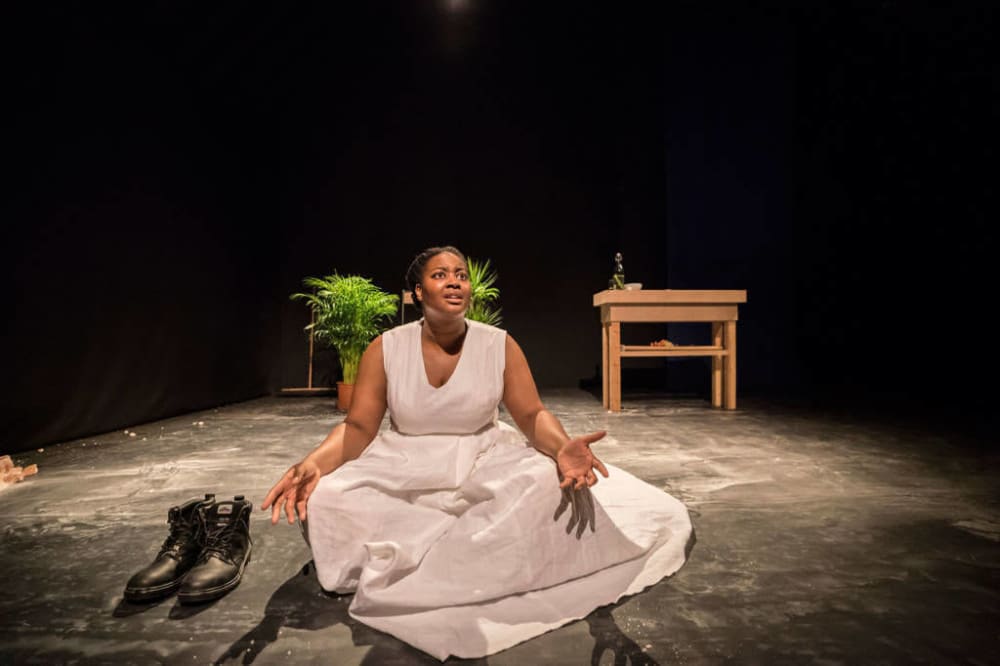 It may have been doing the rounds for a couple of years but this autobiographical monologue has found its spiritual home at the Royal Court.
Written in beautiful poetical language, Selina Thompson's 70-minute-long presentation, directed by Dawn Walton, has heart, soul and a powerful political message.
The lights come up on Rochelle Rose portraying Thompson, a Brummie with Jamaican roots. Wandering around a series of spaces within Katherina Radeva's simple set, the actress tells the story of a triangular trip that encapsulates Miss Thompson's family history.
The symbolism goes further in a spectacular sequence as the actress literally uses a sledgehammer to crack not a nut but a rock of salt. As well as possessing its own strong meaning, this scene provides unique going-home presents for every member of the audience.
The writer was born 28 years before the story that she tells in Birmingham to Jamaican immigrants but brought up by adoptive parents from Jamaica and Montserrat.
In an attempt to find herself, her past and a subject for artistic endeavour, the intrepid young woman embarked on a journey across the globe, starting out on a cargo ship run by an Aryan Master with decidedly politically incorrect views, which he was only too happy to share with his black passengers.
From Britain, they took a circuitous, three-week journey to Ghana, a country with deep meaning for any thinking daughter of the Caribbean, even of the second-generation variety. This was a place from which so many of her ancestors were transported as slaves and, as such, elicited some sad, trenchant observations regarding that trade and its legacy.
The next leg of a journey that had started on the day that Selina Thompson's grandmother passed away in Britain took her to the mother country of Jamaica.
Finally, a return trip to Britain via North Carolina, which has its own racial dimension, completed the triangle and brought the story to its conclusion.
Rochelle Rose holds the audience in the palm of her metaphorical hand for 70 gripping minutes, enlightening them with regard to the hardships that Selina Thompson's family faced in past generations but also making it clear that racism remains a dangerous threat today.
This is a lovely piece of writing, expertly delivered and could well have many viewers in tears as well as raptures.
Reviewer: Philip Fisher