Salt, Root and Roe
Tim Price
Donmar Trafalgar production
Trafalgar Studios 2
(2011)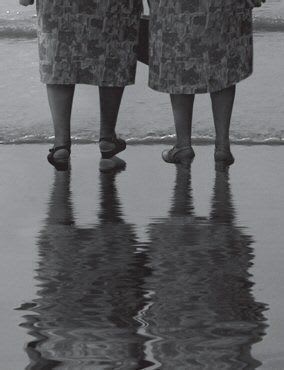 Welsh playwright Tim Price's first play, For Once, suggested that he had the talent to become one of his country's best playwrights. This moving follow-up makes that a certainty and some might argue that even though he is only in his early 30s, Price has already ascended a summit that allows him to be compared with Dylan Thomas, from whom the title of this play has been borrowed.
Where the playwright really scores is in a rare ability to create entirely believable female characters one and two generations older than he is.
Leading the way are septuagenarian twins living on the North Pembrokeshire coast and given true humanity by Anna Calder Marshall and Anna Carteret.
Miss Calder Marshall's Iola is suffering from a brain tumour that has wrecked her memory and behaviour. This hits her sister hard but Anest is made of pretty stern stuff.
A suicidal cry for help is the catalyst for the arrival of Anest's mildly obsessive daughter Menna, played by Imogen Stubbs, and her childhood friend Gareth, now the village bobby.
In a retrospectively hilarious scene, they contemplate death while playing children's board games to occupy the time until the best or worst transpires.
It is not giving too much of the plot away to reveal that the sisters return but to a frosty welcome from their frantic niece/daughter.
With Menna as an overly-protective lodger, life returns to as normal as it will ever get, Iola veering between lucid docility and rage against the dying of the light. This throws mother and daughter into conflict until the 100 minute drama ends in satisfying closure.
Tim Price mixes Welsh and English languages as readily as realism and myth. He demonstrates a fine ear for language and dialogue in a homage to his home country that recognises the deleterious effects of change and weakness as well as the qualities that he loves. He also has a wicked sense of humour that ensures evening does not become too heavy.
While the plotting gets rather schematic in the final scenes, this is a minor criticism of a tenderly written piece that has real heart.
Director Hamish Pirie proves an inspired choice, drawing an unforgettable performance from Anna Calder Marshall, while both Miss Stubbs and Miss Carteret are also on top form, Roger Evans providing noble support as the policeman and the sisters' long lost father.
It would be a pity if this wonderful play did not manage to transfer to a bigger stage and, in the fullness of time, there can be little doubt that it will prove popular in the Principality.
Don't wait though; catch Salt, Root and Roe while it plays in the eerily intimate space of Trafalgar Studios 2. It really does provide a touching and deeply moving experience.
"Salt, Root and Roe" plays until 3 December
Reviewer: Philip Fisher