San Domino
Book and lyrics by Tim Anfilogoff, music by Alan Whittaker
TKD Productions and M. Green Productions
Tristan Bates Theatre
–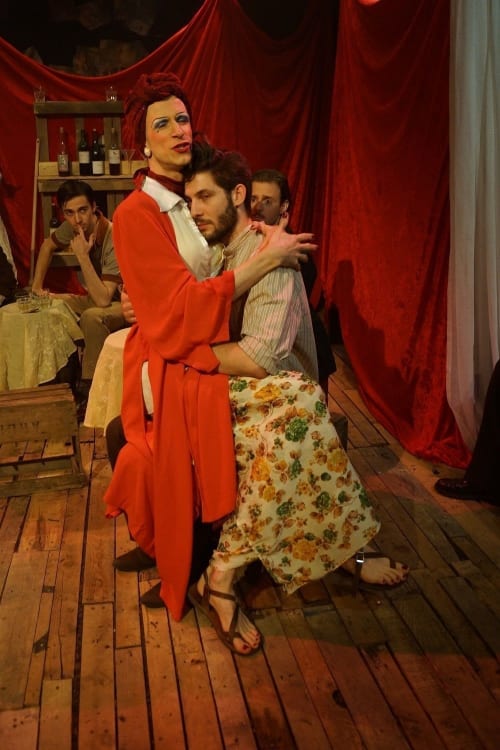 As Hitler started on his rise to power in Germany, Italy's prime minister, Benito Mussolini, was consolidating his dictatorship.
Populating his model for the Italian nation, Mussolini had an idealised vision of virile "real men" (paired with acquiescent women who were also strong mothers) so amongst his totalitarian measures he rounded up gay men and without trial sent them to live in internal exile on islands away from the mainland.
Writer Tim Anfilogoff and composer Alan Whittaker's new musical follows the lives of a group of gay men seized at a private music club in Catania, Sicily and sent to one such island, San Domino, off the coast of Puglia.
Unintentionally, Mussolini created a community on San Domino where being openly gay was not only tolerated but expected of the prisoners.
In contrast to gay stories set in this period, in Anfilogoff's narrative it is the illicit relationship between the Commandante's daughter, Lucia, and Franco, who had drunkenly wondered into the gay club on the night of the raid, which has to furtively hide in the shadows.
Franco was not the only outsider in the club that evening, there was also the well-bred British sex tourist, Andrew, who provides a contrasting perspective, albeit in a questionable cod Italian accent. Also, seminary student Antonio who has yet to find himself and who seems uncertain of what he is doing there.
At the core of San Domino are its gay inmates and to my view Anfilogoff gives undue weight to Lucia and Franco. Initially, the book is also rather laboured but not fatally so.
It comes into its own by the end of the first act, even if it shies away from addressing the harsh realities of life on the island—whatever the fatheaded Berlusconi said about Mussolini's tactics, San Domino was no "holiday camp".
There are one or two strange choices in Anfilogoff's lyrics and in the Catania music club the men are knocking back the prosecco which is rather 21st century and rather unlikely for 1938 since it comes from across the Strait of Messina more than a thousand kilometres north.
That said, Anfilogoff successfully and movingly captures the isolation of the prisoners away from their homes and loved ones, many of whom have disowned them, the influence of the dictatorial regime on daily life and its strongly Catholic backdrop.
Composer Alan Whittaker's score provides a range of musical styles for the likable songs which are accompanied by a band of four and the actor musicians in the cast, giving a satisfying full and resonant sound in this charmingly small venue.
Under the musical direction of James Cleeve, the songs are without exception well sung, some very beautifully so, and it is worth turning up early to enjoy the talented cast in the pre-show in the bar.
Matthew Hendrickson's principled Carlo has an affecting dignity and Andrew Pepper, who recently lit up Assassins at The Pleasance, brings energetic pizzazz as the vivacious tart with a heart Melissa, Pietro's alter ego.
Matthew Gould's production is full of warmth and whilst San Domino is not yet a flawless piece it has much to commend it, not least its look at an interesting and little-known piece of recent history.
Reviewer: Sandra Giorgetti