Saturday Night Fever
Robert Stigwood / Bill Oakes / Nik Cohn
Bill Kenwright / The Robert Stigwood Organisation
Donald Gordon Auditorium, Wales Millennium Centre
–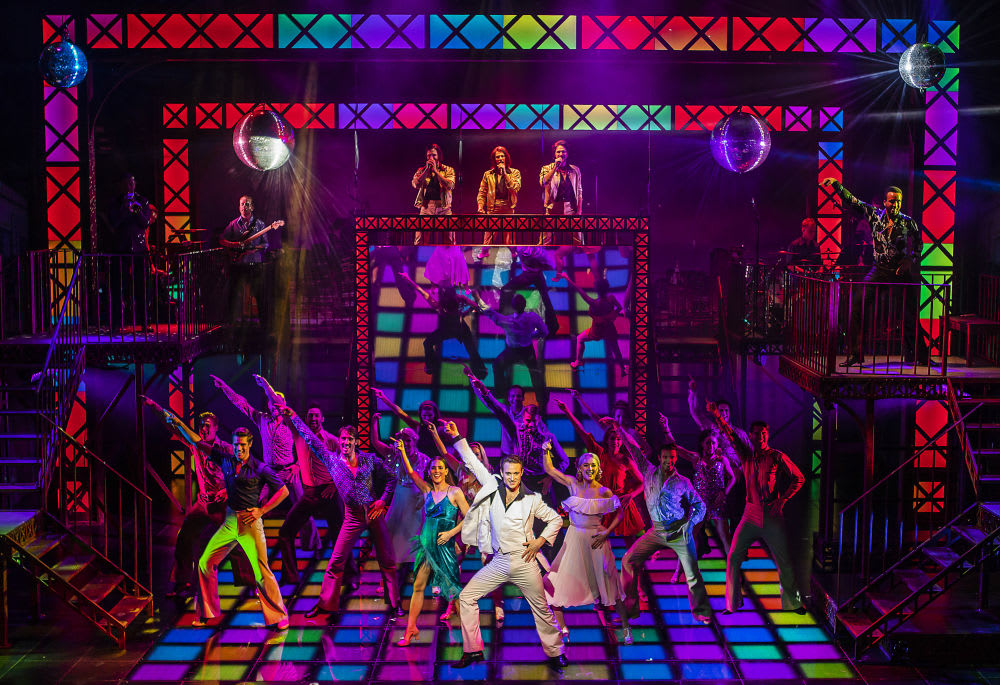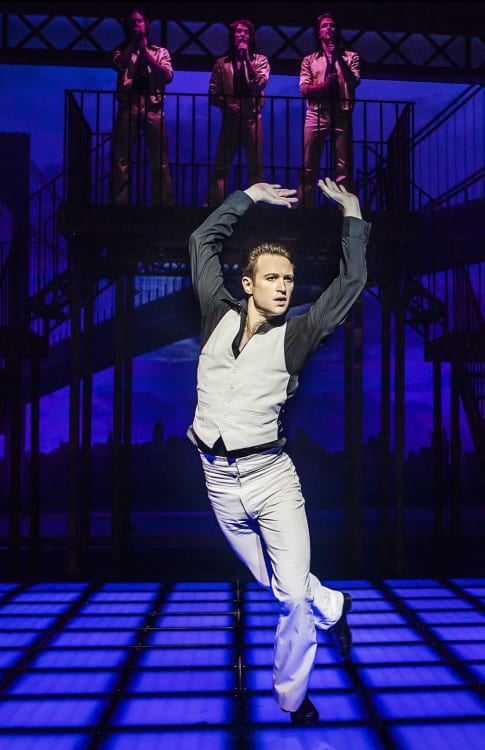 At the time of Saturday Night Fever's initial cinema release, I was slightly too young to see it legally; and in any case, I was on the opposing side in the infamous "punk vs disco" wars. When, several years later, I caught up with John Badham's film, I was surprised at its abrasiveness, and the aspirations to social realism in its take on working-class aspirations (and the lack of them) in Brooklyn.
It is this version which director Bill Kenwright has drawn from in this current tour, rather than the more family-friendly approach favoured by other producers. Thus, rather than a cheery juke-box-musical tribute to the Bee Gees, we are treated to a story which takes in abortion, depression, domestic violence, sexual assault, ethnic gang warfare, suicide, drug abuse and the loss of religious faith.
This is the tale of Tony Manero, who holds down a dead-end job in a hardware store but lives for Saturday nights when he is the undisputed king of the dance-floor at his local discotheque. He sees a chance to make something of himself when a dance competition is announced. But who should be his partner: his old friend, the emotionally needy Annette, or the elegant, snooty Stephanie?
This particular production is built around the talents of Richard Winsor, former Casualty actor and alumnus of Matthew Bourne's dance company New Adventures. He's inevitably in the shadow of John Travolta, but he adds a balletic grace to the swagger and convinces as a frustrated but ultimately honourable young man. And he certainly makes the most of the eye-candy aspect of his role – I don't think I've ever before seen anyone get a round of applause for changing into a suit.
Gary McCann's set is dominated by a set of metal staircases, representing the fire-escapes and bridges on which Tony and his crew waste much of their time; there are also a number of backdrops which swoop in to transport us to the hardware emporium, a coffee-shop, the unhappy Manero family home and, most eye-catchingly, the disco—the site of some spectacular ensemble dancing, choreographed by Bill Deamer.
The Bee Gees themselves (actually Edward Handoll, Alastair Hill and Matt Faull) observe much of the action from above, joined by the excellent on-stage band, led by musical director Richard Morris, the live feel energising the songs.
There is no skimping when it comes to drama, however—in fact, there are probably too many unhappy stories to keep track of. There is the tension between Tony and his unemployed father (Phillip Aiden); the travails of his careworn mother (Melody E Jones); the return of Frank Jr, Tony's priesthood-renouncing brother (Marios Nicolaides); the racially-orientated dispute between Tony's Italian buddies and the local Latinos; Kate Parr's social climbing Stephanie and her desperation to escape her childhood environment; and Anna Campkin's Annette, whose longing to be desired has unfortunate results. None of these is given the attention they deserve.
More successful is the tale of Raphael Pace's Bobbie C, who has accidentally and unhappily got his girlfriend pregnant (and who may have complicated feelings for Tony). In his heartfelt rendition, "Tragedy" (always my favourite disco-era Bee Gees song) takes on an unexpected resonance.
The production climaxes with a beautifully executed solo mini-ballet from Winsor, an adventurously cinematic nightmare sequence and a sensitive resolution of the troubled relationship between Tony and Stephanie; such that the obligatory post-action audience dance-along to the hits seems a tad inappropriate.
Nonetheless, it was the inevitably celebratory response to a beautifully mounted and skilfully performed show which pays the music due respect.
Reviewer: Othniel Smith