Saturday Night Fever
Director Bill Kenwright, story Nik Cohn, stage adaptation Robert Stigwood in collaboration with Bill Oakes, music Bee Gees and others
Peacock Theatre
–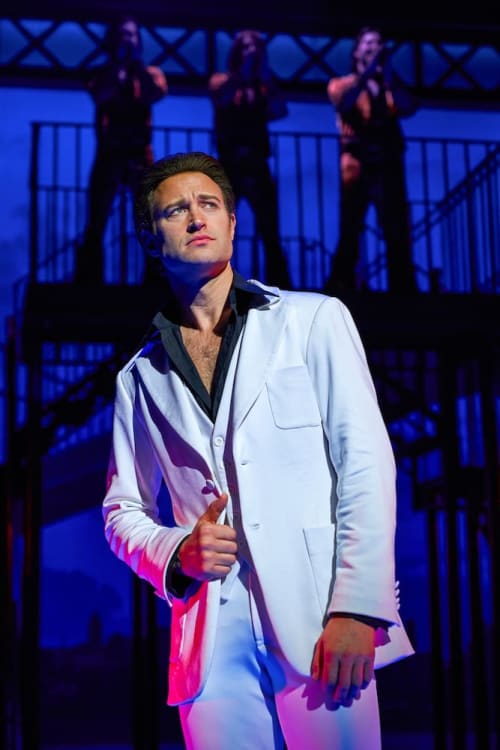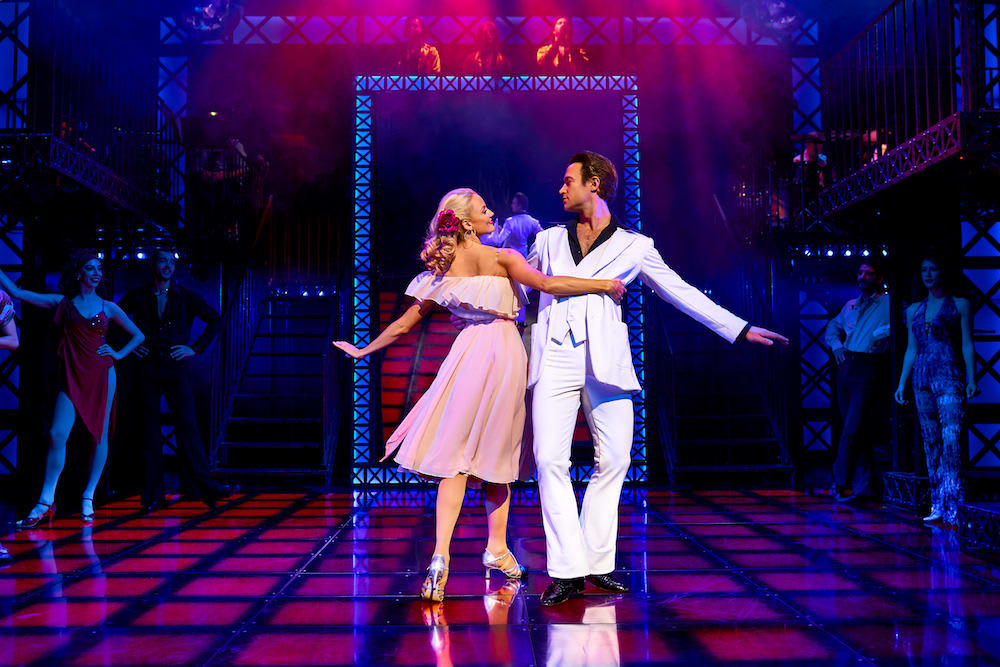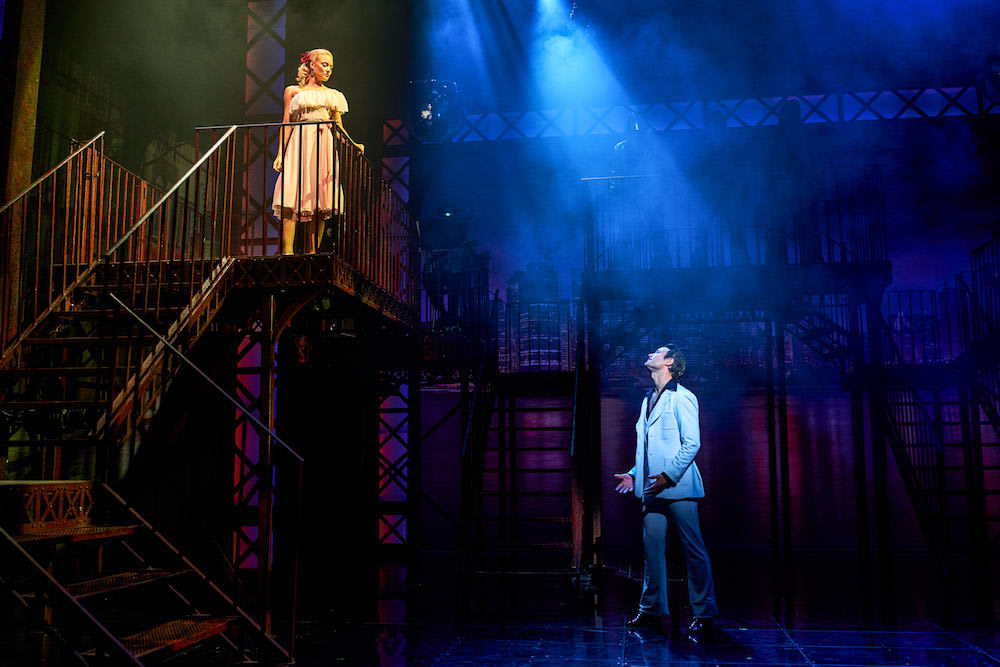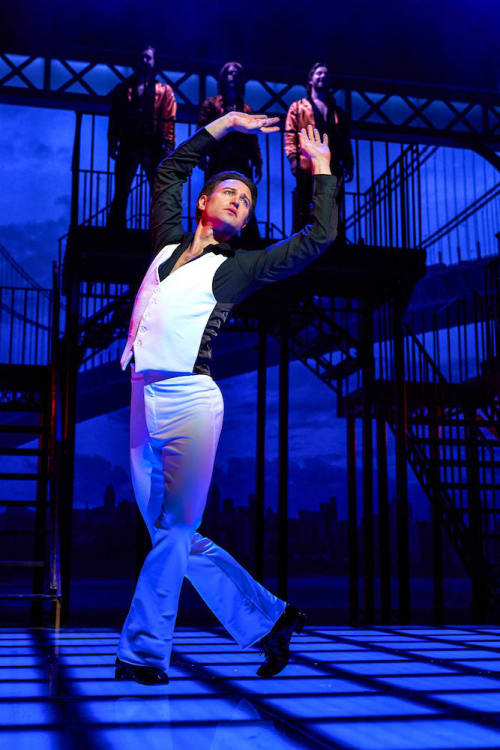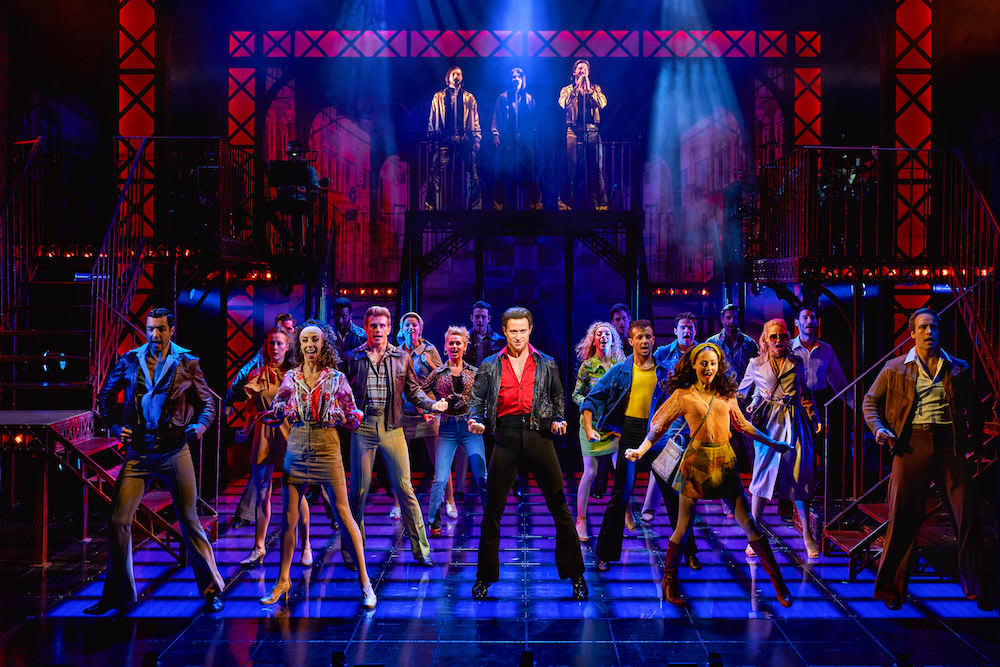 Saturday Night Fever's disco drama seems to be immortal, being constantly given the kiss of life in musical theatre. From the adult-rated 1977 film comes a jukebox feel-goodish stage version, which has been through various permutations since 1998 when Robert Stigwood, inevitably, saw its stage potential. There have been revivals and touring productions.
There's life in it still post-COVID, though the theatre is far from full. There is dancing in the aisles—how could there not be to the infectious disco beats—people jiggle in their seats, sing, cheer, wear disco gear (merchandise on sale includes red glitter trilbies and feather boas). The loudest cheers and wolf whistles are for the donning of that white suit, preening in front of an imaginary mirror, us. Profile view, bum view, and when Tony Manero does up his flies, well...
Richard Winsor, a Matthew Bourne alumnus—I've admired him in most of the productions, Swan Lake, Dorian Gray, Car Man, Play Without Words, Midnight Bell—but it's his role in Streetdance 3D that must have clinched his casting suitability here. Maybe a bit long in the tooth for a nineteen-year-old, but his dancing credentials are great, and he has that bouncing, cock of the yard Travolta walk off pat, the swagger all hips and thrusting pelvis. His acting and singing aren't bad either.
Olive Fines is more than a match for him as the standoffish Stephanie Mangano, desperate to climb from the depths of Brooklyn to the heights of Manhattan. In the Heights comes to mind, but so does West Side Story in the briefest of moments of gang rivalry. And those fire escapes.
Tony Manero, hardware store worker with a bully of an out-of-work father, a downtrodden religious mother and a brother Frank (Marios Nicolaides) who is leaving the priesthood, lives for his Saturday night disco when he can shed all that and strut his stuff. His gang of cronies admire him, girls fall for him, especially Annette (Jasmin Colangelo), but he's not interested. He wants to win the disco dance competition.
And he finds the perfect partner in the independent Stephanie. She is moving on, and the prize money would be useful. Poor Annette in love with Tony is sidelined and decides to become available to whoever will have her. It's a macho world, and girls are either nice or bitches, in other words easy lays. Stephanie has the best cutting lines. "Have I seen you some place? Yes, that's why I don't go there anymore." Brooklyn accents sound authentic.
There's talk of abortion, there's suicide, but no gay representation, surprisingly when one thinks of disco queens and clubbing in that era. Concealed desire—does Bobby (lovely solo from Kevin O'Dwyer) maybe yearn for Tony? Is that why he jumps off the bridge? Not only because he is being forced into marriage to a girl he doesn't love, Italians bound by the strict Catholic code.
Still, it's just the backbone, the main deal is the music and the gotta dance (my words and yes I think of Gene Kelly) vibe. Tony has to keep on dancing, it's in his blood; it's his way out of a stultifying world. Loud music and formulaic dancing keep him alive. There are also jazzy instrumental interludes, which delight me more.
The ensemble are infected by that gotta dance virus, all dancers are, and it's the dance finale that is the best part of the show, by which time I'd had enough of Tony's strutting. He and Stephanie compete against two Puerto Rican couples, and are they good. Tony realises that and gives away his prize to one of them, Caesar and Maria (Luca Rapisarda and Celeste Zollino), who are great as are Chester and Linda (James Wilkinson-Jones and Lydia Bradd). He won only because it was on his patch.
The live band on stage is very good, and the three (Jake Byrom, James Hudson, Oliver Thomson) impersonating the Bee Gees on a gantry above the stage are too, in their gold lamé and period wigs. Nina Dunn's video design gives us Brooklyn Bridge and the Manhattan skyline across the river, so near yet so far away. Gary McCann's set is multi-purpose—big disco mirror, disco balls dazzling us with their lights, drab store, the modest family home (sitting room with Tony's tiny bedroom, Sylvester Stallone Rocky poster on wall, off to the side) flying neatly in and out.
There is sadness and despair, which are not explored, as we must finish on a high for the audience to leave sated. The curtain call provides that, the whole company dancing in formation, arms semaphoring, sexual energy flying, and those narrative songs from the Bee Gees...
"You Should Be Dancing" sends many reluctantly into the cold London night. A Megamix of numbers wraps up a show that feels a little bit dated, but the Bee Gees and John Travolta fans may beg to differ. Nine numbers in the first half, ten plus the Megamix in the second. Who cares about the narrative underpinning, it's the dancing queens that matter, we all know that thanks to Strictly.
Reviewer: Vera Liber