Satyagraha
English National Opera
Coliseum
(2007)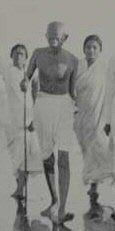 Never let it be said again that the British opera house lacks courage or a spirit of adventure.
Discount the years pent closeted at performances of foreign works, or locked in capacity houses for our own Gilbert and Sullivan - sans surtitles, remember, and played at a speed which made nonsense of any pretence at understanding the text – the indefatigability of English music theatre is now secured, thanks to the bravery of, yes, English National Opera!
On 5th April, 2007 the curtain of the Coliseum rose for the first time in this country on Philip Glass's Satyagraha, a three act opera based on the life and teachings of Mahatma Gandhi. This first English performance came some 27 years after the work's premiere in Rotterdam. And the entire proceedings, it must be recorded now lest the enormous fact is lost, are in Sanskrit, in a text adapted by Constance De Jong from the sacred pages of Bhavagada Gita.
If ever there were an occasion for surtitles, one might think, this is surely it. But no – at least, not if you discount the large and grainy extracts from the great man's sayings which from time to time decorate Julian Crouch's brilliant, corrugated-iron set. Direction is a collaboration between Phelim McDermott and Crouch, a triumph of intricate chorus drilling which achieves a remarkable discipline in minimal movement. Praise too, for chorus-master Martin Merry and his accomplishment in Sanskrit on a grand scale.
The music, of course, is the first thing you notice. Not simply because it is Glass and therefore might be as strange to you as it was to me. Rather, because Glass, an American, appears, so far as I can tell, to have truly captured the sound and spirit of another culture.
It helps, at least with the advantage of first-interval conversation with an opera academic, to know that the work harnesses three icons, or spiritual guardians for each of the three acts, representing various embodiments of Satyagraha, or "truth force". Act one uses Tolstoy with the Bengali poet Rabindranath (act two) and Martin Luther King (act three). Cleverly, the figures are suspended in turn in balconies from which they survey the action.
The music, of course, is something else – bare scales, repetitive arpeggios and shifting time signatures. Such scoring may be, and I gather is, nowadays less foreign to the ear of the regular concert-goer than it once was. However, it is still fresh to me and so I marvelled at how swiftly this remarkable Glass sound penetrated my stranger's resistance to the extent that within moments I was enraptured.
Conductor Johannes Debus, Kapellmeister at Frankfurt Opera, makes his ENO debut in memorable style. If there is any flaw in this production, it is to be found in Gandhi's prolonged intoning of a rising scale (30 times) which adds an unexpected monotony to the act three conclusion.
Alan Oke's performance as Gandhi is remarkable for its tone and clarity while the excellent cast also includes notable performances by soprano Elena Xanthoudakis (secretary), mezzo Anne Marie Gibbons (Kasturbai), and baritone Ashley Holland (Mr Kallenbach)
Much of the musical enjoyment, however, must be attributed to the fascination of Crouch's now famous trademarks, giant papier-mâché models, newsprint and sticky-tape. And I found delight in the placing across stage of forty pairs of shoes. Enough, it may be said, for the entire cast!
The performance is repeated on Friday 13th (6.30 pm) and Saturday 14th (6.30 pm) and also on Saturday 21st (6.30 pm), 25th, 26th and 30th April and on Tuesday 1st May.
The production is collaboration with New York Metropolitan Opera where it will be staged in April 2008.
After this remarkable experience, I shall view Mussorgsky, and even the entire Ring of Wagner, with a new abandon!
Reviewer: Kevin Catchpole