Say When
Robert Bowman
Living Pictures
Seligman Studio, Chapter, Cardiff
–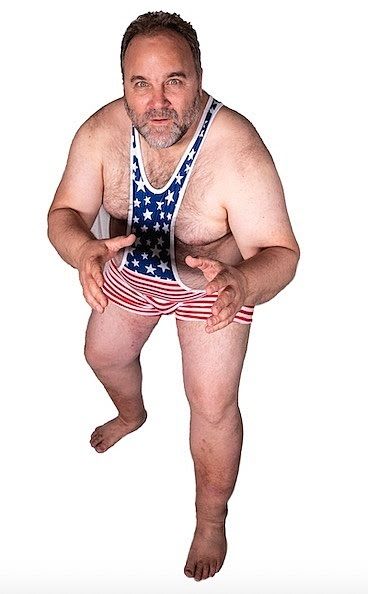 "I'm Robbie, and I'm fat!"
Thus begins Say When, the latest show from Living Pictures, whose hero is a middle-aged man dealing, not only with weight issues, but also a consciousness of the ways in which his excessive consumption is impacting upon the planet at large.
The scene is set using food-themed music (e.g. "Home Cookin'" by Junior Walker's All Stars), as we survey a kitchen / living-space which features a large fridge, a stove, a comfy armchair and what turns out to be an exercise machine whose principal purpose is as a perch for a huge, symbolic teddy-bear.
After introducing himself to the audience, Rob Bowman's "Robbie" leads us through his struggles with weight loss, initially inspired by his wife's threat—not an idle one, it transpires—to walk out on him. The actor's wife, Elin Bowman, is the director here, so I suspect that this aspect of his narrative, at least, is fictional.
The tale begins with Robbie's enrolment at Weightwatchers, where he is the only man amongst thirty cheery Welsh women; after initial success, he begins to backslide and notes the irony that the reward for success with this organisation is a free extension of one's subscription to its programme. He also points out that it owns a successful convenience food brand, thus making it complicit in the capitalist profiteering which is contributing to the environmental crisis.
We are then taken back to Robbie's childhood in Washington State, where, as a youth, he was a successful wrestler (not a heavyweight); he also lovingly recalls his mother's penchant for mouth-watering cooking, and his father's life-long struggle with his weight.
He delves into American history, advancing the thesis that the point at which white settlers began to edge out the indigenous people's practice of growing maize, beans and squash in co-ordination—healthy for both body and soil—saw the beginning of the nation's obesity issues.
While this is essentially a solo performance—and one which winningly combines ebullience with self-consciousness—Bowman is not alone; he interacts with the voices of his ex-wife, his supercilious Alexa device and even, at a memorable moment, Cardiff's very own John Humphrys in Mastermind mode (sound design is by Dan Lawrence).
Other highlights include a television nature documentary narration which starts to focus on Robbie's traumatic bingeing; and a re-creation of a pivotal wrestling match.
In the post-show discussion (which, on the night I attended, focussed on fitness and vegan food rather than drama), Bowman revealed that an early version of the script had him addressing a meeting of the Fat Club for Men he had convened, for which no-one turned up. This might have given the show more of a focus—there is an apparent shapelessness to Say When, which means that the links made between individual diet and broader environmental / political issues seem a little forced.
Nevertheless, the show is funny, poignant and readily relatable, even to those who don't identify as being in Robbie's weight category. It is a call to arms rather than a self-flagellating whine.
Following the Cardiff dates, Say When tours to Pontardarwe, Milford Haven and Llanelli. One can only hope that the "guilt-free" snacks promised are as tasty as those provided at Chapter.
Reviewer: Othniel Smith