Side by Side by Sondheim
A revue of the music and lyrics of Stephen Sondheim with additional music by Leonard Bernstein, Mary Rodgers, Richard Rodgers and Jule Styne and a narration written by Ned Sherrin
The Venue, Leicester Place
(2007)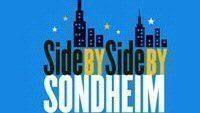 Since its inception in the 70s Side by Side by Sondheim has been performed scores of times the world over. And why not? - thirty years on it still provides a fabulous night out, never more so than in the new production on offer at The Venue, Leicester Square.
Director Hannah Chissick has assembled a first class company. The three vocalists - Alasdair Harvey, Abbie Osmon and Josie Walker - have notable pedigrees, as does the creative team which includes Adam Cooper and MD Michael Haslam. A word should also go to Associate MD, Dean Austin, who has no mean task as second pianist.
As it is a revue there is no plot but the show is held together by a narration penned by Ned Sherrin. The role of narrator is taken by Christopher Cazenove who sometimes looks uncomfortable with the task and were he to come off the book for at least some of the entr'actes it would give a less 'clumpy' effect. The text provides a little biographical detail and song introductions, sprinkled with jolly anecdotes, but overall in spite of Mr Cazenove's charm it comes across as not much more than necessary glue. It is the songs that make this show.
The songlist does change between productions and this one is largely faithful to the original. David Kernan and Ned Sherrin, who devised the show, mined a rich seam - Sondheim was composer and lyricist for A Funny Thing Happened on the Way to the Forum, Company, A Little Night Music, Follies and Pacific Overtures and was lyricist for an array of collaborative pieces some of which are included here.
The mix is all the more interesting as it includes songs that were dropped from productions such as the joyfully witty "Can That Boy Foxtrot" which was cut from Follies. The result provides a balance of familiar standards such as "Send in the Clowns" and less well-known material that will prove both entertaining and satisfying to Sondheim novices and veterans.
Interestingly a medley arranged for the original show, "Conversation Piece", has been cut from this production in previews (at the time of going to press no explanation has been offered). Its loss is a shame because there is no other forum in which to hear it (it is often also cut from cast recordings) but it is most missed because of the consequent awkward segue from "I'm Still Here" to "Side by Side". That said, it would take much more than this omission to mar an evening of such quality.
The songs are grouped but each one is treated as a tiny one-act play and the talented team in this new production don't miss a shot finding every nuance of wit or naughtiness and every element of beauty and craft.
The duets "We're Going to be Alright" and "Barcelona" are exceptionally well conceived and delivered and the trio "Pretty Lady" is sung with such beauty and precision it would be hard to better its delivery, whilst as three hookers they raise the roof with "You Gotta Have a Gimmick".
Alasdair Harvey gives a terrific performance, not least when required to get in touch with his feminine side and take a part usually sung by a female character. He does this to great comic effect in the Andrews Sisters-style "You Could Drive a Person Crazy" and whilst his performance is just as effective in the tragi-comic "Buddy's Blues", he is most powerful handling the hurt and bitchiness provided by "Could I Leave You".
Abbie Osmon - young and gorgeous - puts an original edge on "Broadway Baby" playing it as an ingénue and gives an energetic rendition of "Another Hundred People". In "Losing My Mind" she portrays pain, anger and confusion in a striking and heart-felt performance.
Josie Walker is sensational. Her comic talent matches her material: she gives the comparatively subtle "Ah, Paree!" a light hand whilst the funnily staged "The Boy From " and "Getting Married Today" gets, as appropriate, a touch of pathos and necessary mania.
More importantly Ms Walker knows how to get physical and carry a funny song; her interpretation of "I Never Do Anything Twice" is probably the funniest to be seen. However, it does not do Ms Walker justice to report only her comedic achievements. "Send in the Clowns" and "I'm Still Here" were profoundly moving, evidence, if needed, that she has huge talent.
This production of Side by Side by Sondheim is elegant, entertaining and very funny. Miss it only if you are sure you can live with yourself.
Read Sandra's article on the show
Runs at The Venue, Leicester Place, Leicester Square, London WC2 until Saturday 14th July 2007, at 8pm, with matinees on Wednesdays and Saturdays at 3pm. (Later in the run Les Dennis, Barry Cryer and Angela Rippon will each take the role of narrator)
Visit our sponsor 1st 4 London Theatre to book tickets for Side by Side by Sondheim.
Reviewer: Sandra Giorgetti