Scarberia
Evan Placey
Forward Theatre Project
York Theatre Royal Studio
–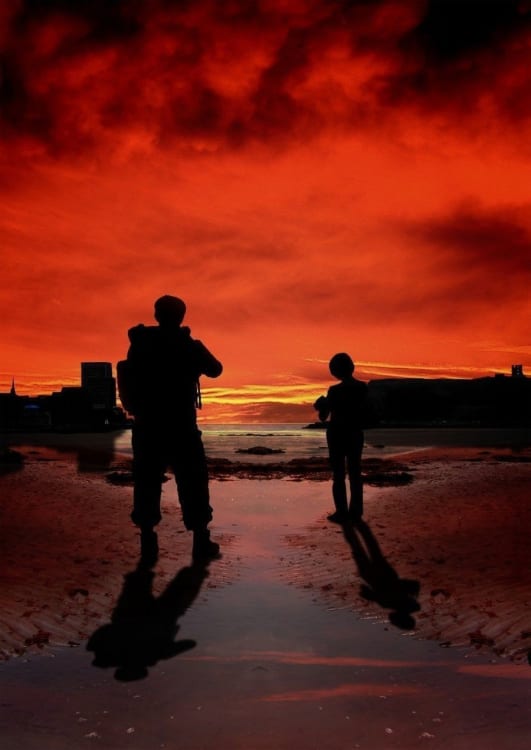 York Theatre Royal's laudable—and enjoyable—youth-oriented TakeOver Festival continues its third season with possibly its most ambitious project: a new play with both local and international overtones, masterminded by TakeOver alumna Charlotte Bennett.
Since acting as the Artistic Director of the first TakeOver Festival, Bennett has worked on various professional productions, and set up Forward Theatre Project as a "collective of 25 theatre directors, writers and designers". Under the auspices of this company, playwright Evan Placey, director Gemma Kerr and designer Lydia Denno worked together with groups of young people in Scarborough, Yorkshire as well as its namesake in Canada in developing the script for Scarberia.
It's a fascinating proposition, and the involvement of the teenagers alongside these emerging artists is tangible. The resulting play is a multi-location mystery story with tinges of the supernatural and chaos theory. It centres round two Yorkshire lads, hoodies with soft hearts who just want to kill time at the beach and spray-paint a statue or two. But when they discover the dead body of a young woman, their curiosity is piqued and they set out to solve the mystery of her death. Most curious is the presence in her wallet of a Canadian driving licence and coins, which leads one of them to the imaginative leap that some sort of physical (quantum) leap has connected their world with that of Scarborough, Canada.
The action of the piece shifts between the two Scarboroughs, with Royce Pierreson and Harry McEntire portraying mid-teen boys in both locations. McEntire, familiar from excellent turns in Punk Rock and A Thousand Stars Explode in the Sky, is a winning presence, perfectly cast as the more intellectually inquisitive of the Yorkshire boys, but showing steel when necessary as the Canadian teen. Pierreson is the less experienced actor, having recently graduated from the Royal Welsh College of Music and Drama, but he too carries off both roles with style, his physical transformations particularly impressive as he incarnates each character in turn.
The trio of actors is completed by Samantha Pearl, who has been given by far the hardest job of the night. Her role, as the dead Canadian girl, alternates between lying still as the boys rifle through her pockets, and reciting a series of monologues which punctuate the action. She has no dialogue with the other actors and her character is by its nature passive, her text descriptive.
These monologues are, for me, the least successfully realised aspect of the play. They reach for a lilting, rhythmic poetry, but too often it seems as though sense has been sacrificed in favour of the word which springs assonantly or associatively to mind. This clouds matters, and though lyrical discourses from beyond the grave can be theatrically effective (Bryony Lavery is one admirable example of this), there is simply too much here.
As well as slimming and trimming, Placey and the team should have considered finding a natural break for an interval; the text as it stands does not offer one, but at nearly two hours the running time is trying, especially as the story itself seems relatively thin and unsurprising, despite the mystery / thriller setup. The twists and discoveries almost all happen off-stage or are revealed to the audience before the characters reach them, and are hence often dramatically unfulfilling.
It's a shame, as within this overlong, under-edited piece there are moments of potential joy and insight, some assured performances, and a clever set design by Lydia Denno, who is building up a portfolio of impressive work at York and beyond. It's a play, then, which is interesting more in its process than its outcome, though it would be fascinating to engage with the reactions of the teen audiences who helped shape the work.
Reviewer: Mark Smith