Scarborough
Fiona Evans
Northern Firebrand
Royal Court Theatre Upstairs
(2008)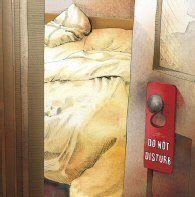 Whenever an award-winning Edinburgh show comes to London, there is the fear that with the much harsher view that one takes away from a Fringe packed with the mediocre, it will disappoint.
It is a pleasure to reveal that, despite losing some of the intimacy that made it work so well at the Assembly Rooms last August, Scarborough retains its power, sensitivity and humour.
There have been more changes than a doubling of the floor space in the Scarborough hotel room that we share with a couple during a dirty, birthday weekend at the seaside. Not only is the room more like a suite than a tatty B&B but the acting team and script have doubled in size.
The first half is what sold out the Edinburgh space almost instantly. This is a tale of love and heartache, as school PE teacher Lauren, played wonderfully once again by Holly Atkins, escapes from reality with her pupil Daz, now played by Jack O'Connell from This is England.
The problems of their relationship are exacerbated as not only is he her pupil but the youngster is 15 years and 364 days old - jailbait if they are discovered.
Where Fiona Evans is so good is in exploring a relationship that contains love but also other elements. For him there is the conquest of an older woman, while she tries to share in the teenage exuberance that she missed first time around.
The two actors are impressive, O'Connell best when conveying the cocky confidence and desperate immaturity of youth, Miss Atkins, the pain of uncertainty.
This is all treated with great sensitivity but far with more laughs than tears, never more so that when the headmaster unexpectedly decides to take some sea air.
For 40 minutes, every one of the 50 people crowded into the bedroom is held by the love story and its inevitable ending. It is a testament to Fiona Evans' skill as a writer that in such a short time, this pair have become living, breathing human beings about whom we know so much.
After the interval, with a few minor adjustments, the play is repeated, this time with a male teacher and female pupil.
This offers Atonement's Daniel Mays, a Royal Court regular and Debbie Gallagher from Channel 4's Shameless (Rebecca Ryan), believably underage, the opportunity to reinterpret the text, not only for gender but also new personalities. They do so well, he as Aiden particularly funny and unexpectedly vulnerable, she bringing a female dimension of tenderness but with an underlying toughness to the part of birthday girl Bethany.
It has to be said that since so much of the enjoyment is generated by Miss Evans' beautifully sculpted script, and its subtle wit, the repetition follows the law of diminishing returns.
Seen for the second time, with only a gender switch, the play is still enjoyable but by the end, one has not derived nearly as much from the second 40 minutes as the first.
Director Deborah Bruce has been blessed with four fine actors and makes the most of both a lively, appropriate soundscape (Scouting for Girls being a perfect selection to open the second half) and designer Jo Newberry's subtle use of lighting.
Fiona Evans is a real talent, who has developed well from the less subtle comedy of We Love You Arthur, also portraying the anguish of youth, to this double dose of tabloid sensationalism turned into human drama. Her next challenge will be to write a full-length script that allows her promotion down the four flights of stairs to the Royal Court's main stage.
Peter Lathan interviewed Fiona Evans in 2005
Reviewer: Philip Fisher