Scary Bikers
John Godber
John Godber Company
Trafalgar Studios
–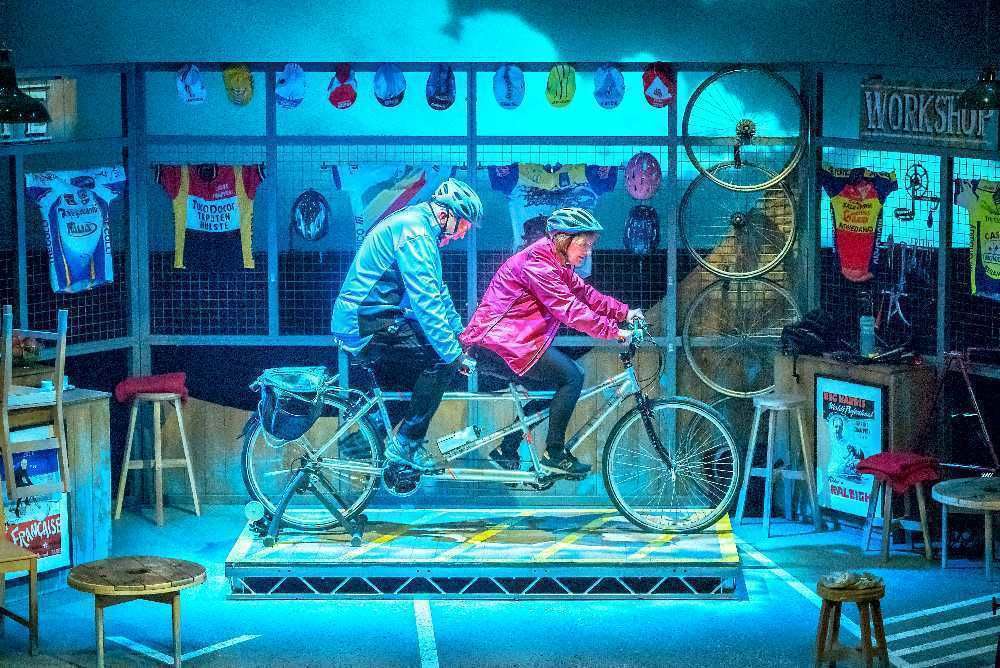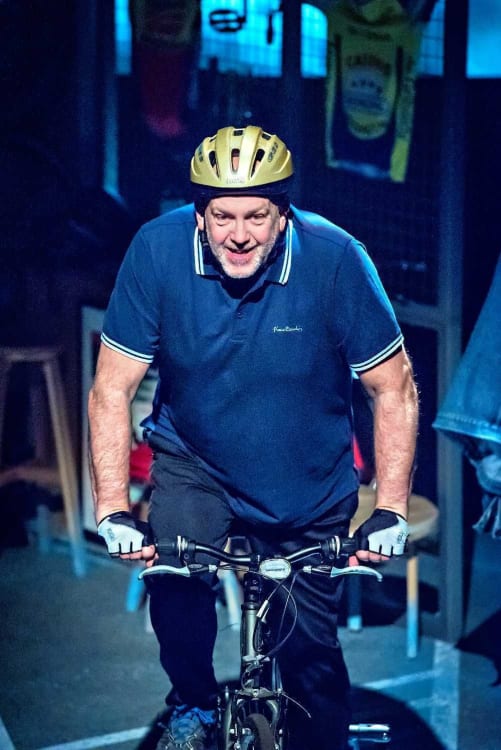 John Godber has become such a legend that is hard to believe he still writes, directs and performs after so many years of popularity. He is regularly fêted as one of the most produced playwrights in the country and pieces such as Bouncers always seem to be playing somewhere.
As this latest meditation on ageing, grieving, cycling and leaving the EU proves once again, the writer's greatest strength lies in storytelling and the jokes that he spreads liberally through his work.
The set for Scary Bikers is a cycling-themed café located somewhere in Yorkshire complete with bikes, posters and Lycra clothing paying homage to the greats of the sport. The play starts at the end chronologically with Jane Thornton as Carol and Godber playing Don working in disharmonious harmony.
Soon enough, each is talking through the fourth wall, moaning about the other as they throw around endearments masquerading as insults.
The back-story is comic and tragic in equal parts. Slightly older Don lost his wife at around the same time that Carol's husband died, leaving both ineffably lonely. Their initial meeting shows little promise, taking place in a cemetery.
Life moves on and the hospital porter, who had once been a miner and is now fast approaching retirement, manages to engineer a meeting with the middle-class architect's widow, who was once a schoolteacher.
Given their common passion for cycling, a bond begins to build although the relationship is always more Darby and Joan than Romeo and Juliet, since these lovers are Brexit- rather than star-cross'd.
Following an interval, well over halfway through the 100-minute duration, the intrepid duo embark on a symbolically loaded, literally painful holiday of a lifetime cycling across a fair chunk of Europe on a tandem.
This gives time for love and respect to bloom, although neither seems likely at times, given that their embarkation date coincides with the United Kingdom's decision to leave Europe.
Perhaps a little too conveniently, Don is a leaver, while Carol voted to remain. Part of the fun lies in their debating, especially since not only did Don fall hook, line and sinker for Boris Johnson's £350 million a week for the NHS but even bet Carol £50 that he didn't have on the certainty of this outcome.
If you are a big fan of experimental theatre or unintelligible existentialism, this evening out will not be to your taste. Instead, Scary Bikers is an archetypal John Godber play, offering many laughs, some sharp political satire and good, old-fashioned, heart-warming entertainment with a Yorkshire twang.
Reviewer: Philip Fisher