The School for Scandal
Richard Brinsley Sheridan
Salisbury Playhouse
(2006)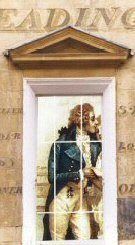 Richard Brinsley Sheridan, we scribes should always remember, was the man who made us what we are – an industry thriving on scandal and gossip! There is certainly not a tabloid abroad today that is not indebted to him.
Much thanks then to Salisbury Playhouse and, in particular, to director Richard Beecham for the current revival of Sheridan's The School for Scandal, the exercise par excellence in mischief-making.
This is a particularly sharp reminder from a generally strong company of players of the origins of the tools of our trade. Barely a trick is missed, not a moment wasted in serious, constructive conversation. It is open season on mischief, slander and trouble-making.
Designer Gemma Fripp wastes no architecture on scenic elaboration. Her set is stripped for action wearing scaffold-like gear which leaves the Machiavellian ensemble free to concentrate on the verbal activity in hand. Even costumes pay something of a token gesture to period.
Of course there are drawbacks. Not all the players can live with this Spartan approach. It is particularly hard on Madeline Worrall as Lady Teazle. Her pretty character is blessed, or not, with an Irish brogue the richness of which is in stark contrast to anything else on stage.Try as I might, I find it near impossible to find a way through to the dialogue.
Perhaps this is due in part to the remarkable pace at which the lines are pursued. Characters come and go at speed - and they do not hang about in the business of delivering their mischief.
Frances Tomelty leads the field as Lady Sneerwell, with excellent support from the aptly-named David Bark-Jones and David Delve (Joseph Surface and Crabtree). There is a fine figured Mrs Candour from Carol Macready and an altogether fine Sir Peter from Philip Franks.
Edward Bennett is an oily Snake and Philip Madoc who, aside from various Shakespearian exploits, was a memorable German in Dad's Army, brings up an impressive rearguard as Surface.
Paul McClure's music is something else, serving to distract rather than assist the attention on what are, after all, matters of considerable local interest shortly to appear in all the papers!
The production continues until Saturday 22nd April.
Reviewer: Kevin Catchpole