The School for Wives
Molière, translated by Ranjit Bolt
Planet Theatre Productions
Upstairs at the Gatehouse
(2009)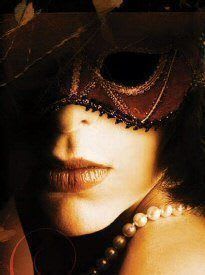 This 17th Century French comedy takes as its story the conceit of an older man, Arnolphe, who thinks he can succeed where others have failed. Whilst husbands all around him are ripe for mockery by being made cuckold by their wives - indeed "subjects for satire increase each day" - he has the perfect plan: to mould an obedient and faithful wife by taking a child and having her raised as an innocent in a convent.
If she does not know how to fool around, he reasons, she cannot fool around and thereby his reputation will be safe. Arnolphe's over-confidence confirms what we already know - that his plan will fail and our entertainment will be watching its unravelling.
When we join the action Arnolphe has kept Agnes, by now out of the convent and 17 years old, secluded in his country house. When he leaves her in the care of his two stupid servants a handsome young man, Horace, happens to pass by and takes her heart, and being so naive it does not occur to her that she should not let him have it.
Horace reveals the details of his romance to family friend Arnolphe, not realising he is Agnes' guardian because he uses a different name when in the country. As a result, much of the comedy revolves around Arnolphe trying to thwart Horace's plans to secure Agnes as his own.
Molière's approach to the ethics of marriage doesn't have the shock factor it had in the 1660s but there is a certain poignancy in knowing that only months before writing The School For Wives 40-year old Molière had taken a wife aged a mere 20.
Hayward Morse takes the part of Arnolphe. Although we should probably dislike him, Morse, whose comic skill is much in evidence, imbues the character with a certain charm and not too much dandy-ness. The sharing of confidences with the audience is not overdone so, although Arnolphe dominates the play, he is not overbearing. When things don't go his way, Morse's mobile face changes from dastardly to the endearing sad droopiness of a Bassett Hound.
The 'antidote' to Arnolphe's potty ideas is the commonsense of his friend Chrysalde, ably played by Damien Thomas. What makes Thomas' performance so apt is that he embodies the calmness that contrasts with Arnolphe's more manic demeanour.
David Osmond is Arnolphe's young adversary in love, Horace. He is all lovesick enthusiasm - convincingly dim without being irritating, and all-in-all a rather adorable sort of dolt. The object of his love Agnes is played by Ellie Turner. She has an expert innocent-nearly-stupid expression with a Bonham-Carter-like prettiness and her Agnes has the intellect of Alice (Emma Chambers' character) in The Vicar of Dibley.
Katie Evans and Gary Skelton are in support as the funny witless servants whilst Ric Truman is a picky, crow-like notary and Oronte.
My hat is off to Adrian Brown for clear-sighted and well-paced direction that culminates in a moment of genuine pathos. Also to Cecil Hayter for a visually pleasing and practical set complemented by costumes from the National Theatre, all enhanced by Lawrence Stromski's lighting. This is fringe Molière well above the average in all respects and well worth the trip to Highgate.
"The School For Wives" runs until 6th June with performances Tuesday to Saturday at 8.00pm and Sundays at 4.00pm
Reviewer: Sandra Giorgetti