Schwanensee (Swan Lake)
Peter Tchaikowsky
Staatsballet, Berlin,
Staatsoper, Unter den Linden
(2004)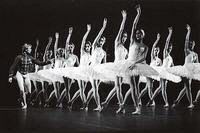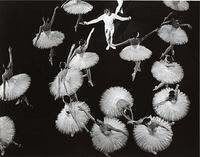 When an old favourite like Swan Lake stirs the hairs on the back of your neck, you may be sure the performance is something special.
Such is the case at the Staatsoper in Berlin's Unter den Linden, now restored to much of its own 18th century charm, where the Staatsballet repertoire currently includes the notable 1997 reworking by Patrice Bart of the Petipa and Ivanov production.
Tchaikowsky's evergreen score is a delight in almost any circumstances. In the hands of the Staatskapelle under Felix Krieger it is thrilling.
And the grace of the opera house built for Frederick the Great, cream stalls contrasting with red and gold, itself irresistible to me on the rare occasions when I pass through the Brandenburg Gate, seems the most glorious setting for ballet I could imagine save the lake itself.
Designer Luisa Spinatelli's investment in gauze ensures the magical flavour of this "Schwanensee", the spell completed by some deft work with the smoke machine.
There as, too, a remarkable sense of unity among the corps de ballet - so much, in fact, that long familiar dances of swans appear almost as if for the first time.
I have to admit some uncertainty about the early scenes on the palace terrace, colourful though they are. Even the appearance of Ronald Savkovic's Prince does not immediately lift proceedings. Once, however, the Prince meets his match with the arrival of Viara Natcheva in the dual role of Odette/Odile, the stage is set for a memorable partnership.
From this moment, the performance gathers the intensity that leads to the exquisite sight of the Act 3 Black Swan pas-de-deux in which Natcheva and Savkovic are as one.
This must be, technically, one of the most ambitious performances of the work I have seen. After which the only place to go is home, shame though it is to leave such a lovely building.
Reviewer: Kevin Catchpole