Scribbler and Spouse
James Robson
Yellow Leaf Theatre
Brockley Jack
(2008)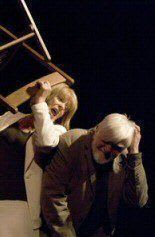 Scribbler & Spouse is a two-hander by James Robson whose writing credits include television's Heartbeat, radio's The Archers and theatre productions up and down the land; the show has been touring 'north of Watford Gap' for the last year or so and now makes a brief visit to London.
It is widely acknowledged that this is a society where thirty years of experience and grey hair is just as likely to make you marginalised as it is to gain you respect, and so it was that Robson discovered that his 60 year old face didn't fit when his radio play was rejected on grounds that amounted to thinly veiled ageism.
Robson's 'Age-Rage' launched him into writing Scribbler & Spouse which he admits is autobiographical; "He [Scribbler] is me," he writes in the programme notes, "not so much my alter-ego as my ego altered by the demands of honesty, the laws of slander, and dramatic form".
In the play Scribbler is accompanied by his long-suffering wife, Spouse, as he tours round addressing writers' club meetings in little village halls to hold forth about the job of writing and his life as a scribbler
Spouse is his amanuensis and prompt, she sings theme tunes when the tape player refuses to play the sound tracks and takes on all other roles in scenes improvised from Scribbler's life experiences. She keeps him on track in his talk as she does in his life.
In the course of the talk more than just his professional life story is revealed as he confesses to jealousy, adultery, alcoholism and failure. From the outset Scribbler is a fractious "clapped-out old bugger from the Ink Age", argumentative and rude but also funny. He rants and rambles, ricocheting between anecdotes and admissions and out it all pours.
Alan Meadows plays Scribbler with great energy and a sensitivity for the changes of pace so that the audience's attention is held but not exhausted. He plays the roller-coaster of emotions with conviction and ultimately makes Scribbler endearing and believable though the rallying "don't join the pack" carpe diem ending is questionable.
James Robson gives characterisation and all the best lines to Scribbler with the nature of Spouse only really emerging in the second act. Common sense dictates that she must be a strong and practical woman to hold together an albeit loving marriage with an infuriating, selfishly-creative man, but the writing doesn't quite do her justice - and the hackneyed joke about getting lost in the Barbican should go!
Maria Warburgh recently took over as Spouse and is less certain in her role than Meadows is as Scribbler. There is something reminiscent of Felicity Kendal in her gentleness which needs to be controlled lest Spouse be interpreted as a martyr because when she berates him the anger comes across rather faint. Spouse has been "chained to a loony for years" and has the right to more than mere indignation.
Sextogenerian James Robson sent off the script of Scribbler & Spouse to Yellow Leaf Theatre, a group of theatre professionals all aged over 60 who pride themselves in celebrating rather than ruing their maturity. Their production is proof that Lincoln was right when he said " in the end, it's not the years in your life that count. It's the life in your years."
Reviewer: Sandra Giorgetti