The Seafarer
Conor McPherson
RNT Cottesloe
(2006)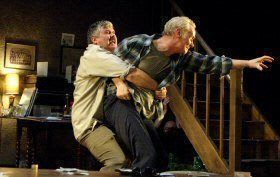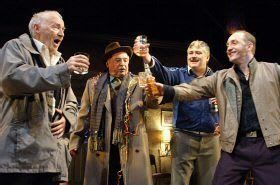 Watching this engrossing play at the National Theatre feels distinctly odd. While Conor McPherson fully deserves the accolade of a production at what many might regard as Britain's premier theatre venue, The Seafarer has the feel of a Bush play with Royal Court overtones.
That is meant as a compliment to a writer whose theatrical roots combine locations a long way to the west, on stage; and at least a little further in that direction for the London stagings.
The Seafarer represents yet another stage in the development of this writer, who is still only in his mid-thirties having sprung to fame very young with The Weir, his award-winning ghost story, with which this play has so much in common.
The big difference these days, is that not only does McPherson, who also directs as tightly as always, write some of the best monologues in the business, containing the finest yarns, but he has also learned the art of dialogue.
With his history, a cast of five who spend the whole of the second half of the play on stage together is almost more of a turn up for the books than Deborah Warner's Julius Caesar, where over 100 actors swamped the Barbican stage.
The National has put together an outstanding team of actors, most of whom have worked with the playwright before and who between them build through gentle drunken comedy to shocking revelations and final closure.
This play could be seen merely as an entertainment but it also has claims to be an allegory about the way in which long repressed guilt can creep up and overwhelm every aspect of one's life.
The action takes place at Christmas in a run-down house near Howth to the north of Dublin, created on stage by Rae Smith. The comedy starts early as the inhabitants nurse hangovers and try to remember the night before. They are a motley bunch with Jim Norton's Richard blind following a drunken fall into a skip at Hallowe'en and Ivan played by a Conleth Hill little better, having mislaid his glasses.
The only active pair of eyes belongs to Richard's brother Sharky, who has returned to the family home to look after the older man, having given up a job as a chauffeur in the country. One sometimes wonders about Karl Johnson's accent playing this part, but his commitment and thrilling acting throughout are not in question.
The three old boys blunder around happily enough until their Christmas celebrations are altered by the arrival of two guests. Sharky was hardly likely to be pleased by the arrival of Nicky, a chatty bloke played by Michael McElhatton who is now living with Sharky's wife.
Ron Cook as Mr Lockhart is an enigma. He dresses like a dapper country solicitor and maintains excessive politeness but it is difficult to penetrate his facade and work out what is going on in his mind.
It takes a full hour to discover that he is apparently Mephistopheles. Not only can he read minds, but he reminds Sharky that 25 years before, he had sprung him from prison at the cost of his soul, which was to be delivered up a quarter of a century later.
What had appeared a light hearted, domestic comedy of manners suddenly becomes something very much darker, but even funnier.
The whole of the hour-long third act consists of a card game in which three men are playing for drink money while the other two tussle for a soul.
It would be wrong to reveal what happens at the end but The Seafarer proves to be a richly rewarding comedy in which all five actors have opportunities to shine. It demonstrates once again that not only is Conor McPherson a top writer and director but he has an uncanny knack of being able to project himself into the minds of men a generation older than he is.
Pete Wood reviewed the production on tour at the Theatre Royal, Bath.
Reviewer: Philip Fisher