The Seagull
Anton Chekhov, adapted by Tom Stoppard
Compass Theatre Company
Theatre Royal, Winchester
(2005)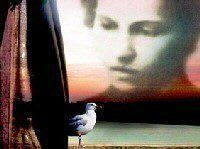 It says much for Compass Theatre, and for director Neil Sissons in particular, that their revival of The Seagull in Tom Stoppard's crisp adaptation still oozes with Chekhov's provincial intentions.
Here, in this case Winchester theatre Royal, we enjoy the embodiment of Melikhoran country life -a view of the lake, talk about literature, little action and a hundredweight and a half of love, none of which seems wanted by anyone else.
I am inclined to be suspicious of reports that a play crashed on its opening night when I know for a fact it has for 100 years been delighting audiences around the world. Yet such reports serve to remind us what tender nurturing goes into a performance such as this.
My fears were quite unjustified, for Stoppard's hand on this text rise over his clinical approach to dialogue. I never came to terms with his Code Breakers, for example. Hence my suspicions of a debt to director Sissons and his team.
At the same time, Chekhov is surely a man after Stoppard's own heart? Lots of talk, an interrupted play within a play - and the crushing of human ambition symbolised in the title theme.
Whoever's text this is, the characters are Chekhov's. Robert Austin's amiable, elderly Sorin sets the pace of the rural life amounting to an evocation of the playwright's own land-owning days. A nicely strident Arkadina from Jane Gurnett ensures the atmosphere is properly disrupted.
The ability to stir dormant longings all around her seems a wasted asset in a resting actor, but the lady uses it to maximum effect, even though its ripple effects embrace the tragedy of her own son, Konstantin - a deeply troubled sole in Ben Hicks's performance.
Amy Rhiannon Worth gives a tautly frustrated Masha with Emma Stansfield an engaging Nina, the lost spirit of Chekhov's vision.
Liam Doona's settings are splendid. However, a live piano, even muted tape, would have been less intrusive than the high volume sound of otherwise appropriate music by Christopher Madin which leads us in and out of this excellent production.
"The Seagull" plays at Winchester until 23rd April and then goes on to Newport, Sheffield and
Bury St Edmunds
Reviewer: Kevin Catchpole