You Can See the Hills
Matthew Dunster
Young Vic Maria Studio
(2009)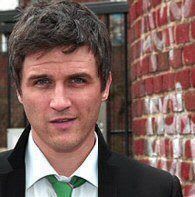 At times like this, it is a real shame that BTG does not give out stars, as it would be great to hand out the top accolade to a truly wonderful evening's entertainment.
After a mere one week run in the Claire Studio last year, Matthew Dunster's re-imagining of his youth returns for a longer run in the larger Maria space.
Sometimes intimate solos suffer from too large a theatre, as happened with The Fever recently, but You Can See The Hills is such a strong piece, immaculately directed and performed, that it totally entranced its opening night audience.
In relating the experiences of a self-confident, roguish but loveable Jack-the-Lad, the team of Dunster and TV regular William Ash is complemented by the simplest of sets and an atmospheric and highly original lighting plot from Emma Chapman
Otherwise, all that they have to rely on is a strong story and a rich seam of talent. Adam "Ashy" Ashton is an ordinary teenager growing up in Oldham a couple of decades ago. We follow him through senior school, his life primarily measured by the girls that he aspires to or actually gets off with - and there are dozens.
The playwright has a real talent for drawing in and then holding his audience. From the opening moment, the youngster's relentless pursuit of the opposite sex is set in train as he cruelly deserts Jill and chases Sammy.
The conquests are interspersed with stories of growing up in a supportive family, with every member drawn fully enough to identify with.
The result is episodic and at times schematic but never feels like it. Dunster as director blends stories into each other and where there is a major change of theme or time, relies on the lighting to take one story down and launch the next.
He covers a lot of ground as Adam grows. There are the usual embarrassments and triumphs of youth but also more dramatic tales that include a horror story involving a backward girl, Granddad with MS, drug culture, a murder and a natural death and a couple of teen pregnancies.
This is all a bit much for one slice of life but then so were the ploys of Dickens' novels. The key is that you never really feel as if the storytelling is forced and will be moved to tears of pain as well as laughter by Ashy's experiences.
Dunster is a master storyteller with a love of language and a wicked sense of humour, while handsome William Ash has a hint of naughtiness and twinkle in the eye that will win over not only the female spectators but their male companions too.
In every case, viewers will identify with the characters and predicaments throughout what is now around 2½ hours of pure pleasure.
You Can See The Hills is undoubtedly the finest monologue that London will see this year and one of the best plays. It is bound to sell out even the bigger space so book early to avoid disappointment.
Playing until 9 May
Reviewer: Philip Fisher