Sehnsucht / Schmetterling
Choreography by Sol León and Paul Lightfoot
Nederlands Dans Theater 1
Sadler's Wells
–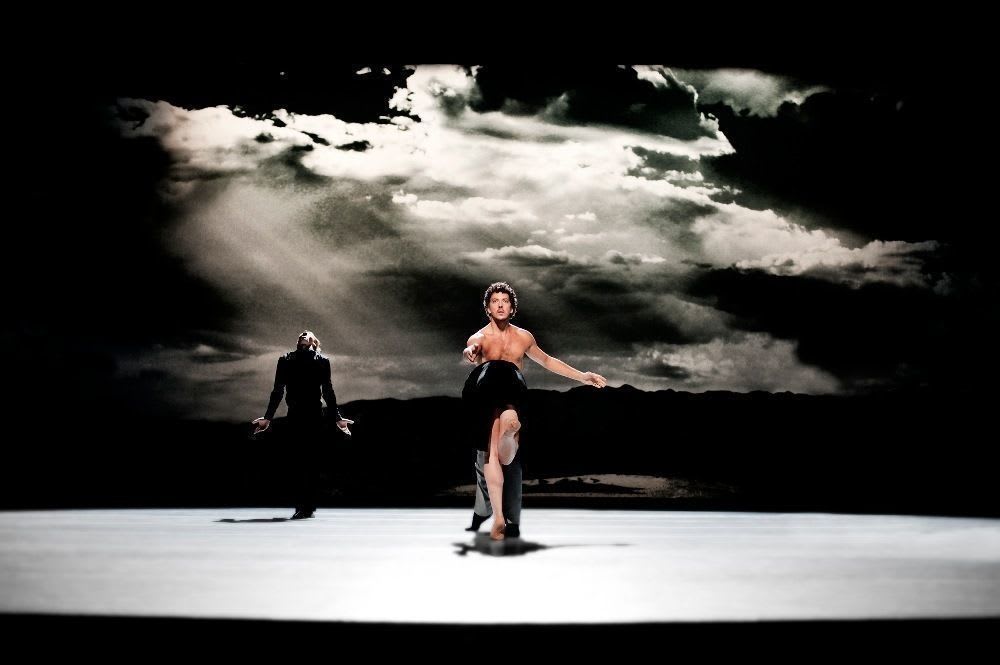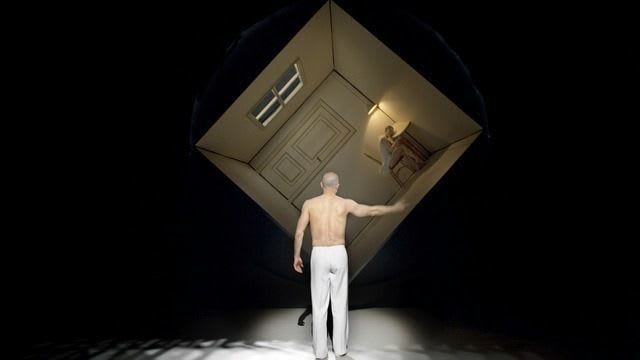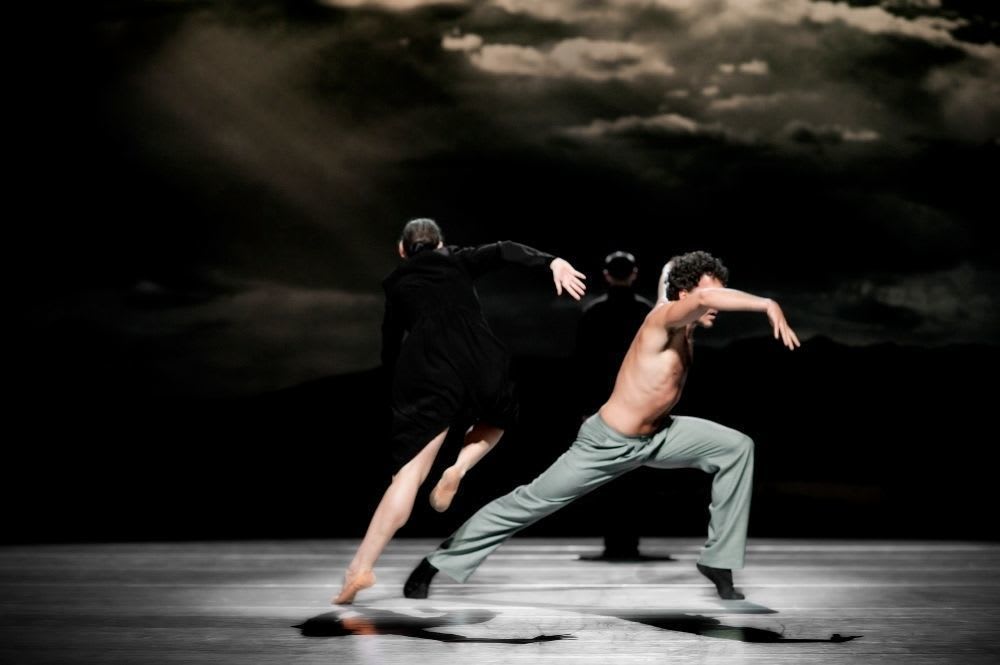 Love in its chameleon forms, and relationships—it's always about relationships, say the Spanish-British duo Sol León and Paul Lightfoot, formerly joint resident choreographers, now respectively artistic adviser and artistic director of Nederlands Dans Theater 1—constitute their double bill.
Sehnsucht (2009) and Schmetterling (2010), two UK premières, have the audience stamping and cheering, and the two ladies of a certain age having fun next to me very vocal in their personal reading of the enigmatic dramas on the stage.
Sehnsucht, a romantic longing for the unattainable, a seeking of something out of reach, that we in our little lives know must be out there somewhere, is conceptualized by a revolving box of a room.
Anyone remember Fred Astaire dancing on walls and ceiling in Royal Wedding (1951 film)? León and Lightfoot must: they confess to being big film fans, especially silent movies, especially Fritz Lang movies. Astaire can't have escaped their viewing.
Trapped in a black and white cartoon room, where the ceiling and walls become the floor, window becomes a skylight and a pit, where shadows lengthen, where table and chair become trapeze bars, a couple tangle, bounce of the walls, stretch and climb them, she (Parvaneh Scharafali) straining for what it is she thinks she sees outside.
And what is outside but a tall young man, lithe, muscular, a statue in a solo spotlight. Silas Henriksen holds classical poses, a poet in the moonlight, shakes out his long limbs and shoulders, and she steps out of her cube. Not for long. Her man (Medhi Walerski) takes her back in, but not for long.
The cube recedes and a cohort of people in bare torsos and baggy black trousers take its place. Who are they, these creatures of the night? Are they the mythical Furies? Magritte, Bunuel, Cocteau references? Classical and 'Jiří Kylián' and 'Ohad Naharin' contemporary styles marry the introvert and the extrovert.
Bare flesh against black wall, black fabric against a flesh-coloured floor, Lightfoot and León do their own costumes and stage design, but Tom Bevoort's lighting makes it, and the dancers are superb.
And the music is Beethoven: his soulful minor key Pianoconcerto Nr 3 and Symphony Nr 5, and the second E-minor movement from his Pianoconcerto Nr 4 in G-major. Music for nighttime sehnsucht and sighs.
The interval is cast, too. If you choose to stay, and my neighbours do, putting words in his mouth, you'll see Silas Henriksen remain front of curtain in hermit crab position as he finished in Sehnsucht, the one left out in the cold, see him straighten up, move a few steps, look at the chattering audience, exit slowly.
Only to be replaced by a robotic girl in red coat, Ema Yuasa. The young version of the old lady she plays in the next number, Schmetterling, perhaps? And Medhi Walerski, linking the two halves, makes a fleeting appearance. Pina Bausch inspired?
Schmetterling (butterfly), a bright brief life of one thing after another, a comic take on the fickleness of flighty love, the transitory nature of life, any and all of these things. Graphic novel style, León and Lightfoot make lighthearted dramatic fun of the elusive nature of love.
In black coats and frocks, black socks and hair under black hats, unisex (we're all the same?) inky figures from comic book strips in solos, duets and trios enact a selection of songs from the indie rock band The Magnetic Fields' epic 1999 album 69 Love Songs, ironic songs about love songs, undermining and celebrating their clichés.
"The book of love is long and boring… but I love it when you read to me", Stephin Merritt's 'Townes Van Zandt' with a smidgen of 'Rufus Wainwright' voice intones, and again there's a flash of Pina Bausch in the music and in the line formation movements of the dancers.
Max Richter's score brings it to an elegiac finish: all must come to an end. The black doorways within doorways through which we pass in life lift to reveal Rahi Rezvani's darkening sky cyclorama, drawn back like a curtain to uncover the dark void beyond.
But "nothing matters when we're dancing" goes one song, and that is so right, for a moment all cares vanish. This is such a good night. Go and have fun.
NDT1, back for the first time at Sadler's Wells since celebrating its 50th anniversary in 2009, need to be seen. I want to see it again. The dancers are some of the very best.
Reviewer: Vera Liber