Seize the Day
Kwame Kwei-Armah
Tricycle Theatre, Kilburn
(2009)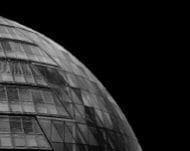 It could happen. If Barack Obama can become President of the United States, there is no reason why a Black man should not succeeded Boris Johnson as Mayor of London in 2012. That is the premise behind Kwame Kwei-Armah's fable, which continues the Tricycle's Not Black & White Season.
Kobna Holdbrook-Smith takes centre stage as Jeremy Charles, a reality TV celebrity who has just the right mix of good looks, charm and emptiness that could make a perfect politician.
That, at least, is the view of kingmaker Howard Jones, a Trevor Phillips-like community leader played by Karl Collins, who knows that he is past his own sell-by date but still wishes to pull the strings of power.
With the assistance of Jaye Griffiths playing spin doctor Jennifer and Abhin Galeya as a token Asian financier, the larger-than-life Jones, like Dr Frankenstein, sets out to create a monster capable of taking on the world, or at least Mr Johnson.
There are thousand reasons why Jeremy is the wrong choice for the role. Not only does he not appear to have a political bone in his body, his team did not seem to be affiliated to any party, which, despite the fact that the ethnic vote in London is somewhere near 40 per cent, seems too big an obstacle to overcome.
His White wife might be a plus but she is more than counterbalanced by Sharon Duncan-Brewster's Susan, a pretty Black mistress but surely a time bomb waiting to explode when the media catches on.
What Jeremy does have in spades is that valuable politician's ability to pontificate at length about nothing at all. More unusually, he combines this with an inherent belief in justice, which is probably far too naive for anybody aspiring to high office in Olympic year.
Kwame Kwei-Armah cleverly injects humanity in the form of 17-year-old Lavelle, Aml Ameen giving a virtuoso performance as a youngster sliding into petty criminality. He, however, has hidden depths and proves to be a kind of bellwether for this affluent Uncle Tom who wishes to impose his own deeply flawed value system onto a would-be protégé.
The scenes between the pair generally manage to avoid cliché, as Lavelle stands up for himself and his sense of honour, while Jeremy can do little more than patronise.
Seize the Day, which is directed by the writer, never quite gets to grips with the political reality underlying the spin. Even so, through the mouths of Jeremy and Lavelle, Kwame Kwei-Armah makes some trenchant points about the Black community today and its division into very distinct classes.
Once again, the Tricycle has commissioned what turns out to be an enjoyable, if not outstanding, work that highlights some serious issues in a light-hearted but committed fashion. Who knows though, in two years time we might just discover that it was not a fable after all?
Playing until 19 December
Reviewer: Philip Fisher