Sejanus His Fall
Ben Jonson
Red Bull Theater
–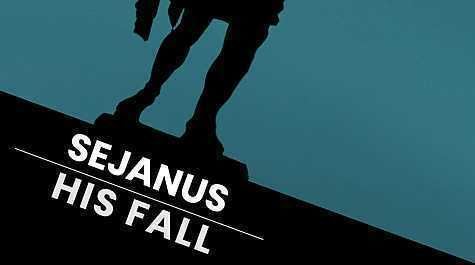 Red Bull continues to mine the classics for largely forgotten gems. Their latest offering takes us into I, Claudius territory.
Nathan Winkelstein has adapted and directs Ben Jonson's play from 1603 Sejanus His Fall, utilising the company's standard modus operandum of inviting large casts from across the United States to work live on Zoom.
This is a highly political play about a scheming and conniving man who will brashly walk over anybody, even members of the Imperial family, to attain power. Laila Robins plays Tiberius Caesar, a Roman emperor whose hold on power is constantly threatened, primarily as family members have a habit of dying in suspicious circumstances.
His reign is bolstered by the support of the rather unimposing Denis O'Hare's Sejanus, a kind of precursor to the kind of Mafia hitman who seems destined to become a Don but only after the shedding of far too much family blood. While he may not obviously exude power, Sejanus has strong support as he rises, bolstering Tiberius but never overcoming perfectly justifiable suspicion.
After taking on and defeating allcomers in the slyest fashion, a two-hour-long performance builds to a battle between the eponymous "climber" and Macro played by Matthew Rauch, as determined to triumph and potentially with as many camp followers.
This production ignores costume, which can make the need to travel back in time a couple of millennia mentally that much harder, although the language and poetry help.
Ultimately, Sejanus His Fall is something of a Roman potboiler that entertains through its depiction of an immoral and unprincipled era and particularly the evil personified in the form of its central character. Viewers might also see a contemporary parallel on discovering that, all those years ago, unhappy and unruly citizens demonstrated their desperation by storming the Capitol.
While all of Red Bull's worthy online productions are offered free of charge, in order to fund them and keep the company running into the future, viewers are encouraged to make suitably generous donations.
Reviewer: Philip Fisher