Seminar
Theresa Rebeck
John Golden Theater, New York
–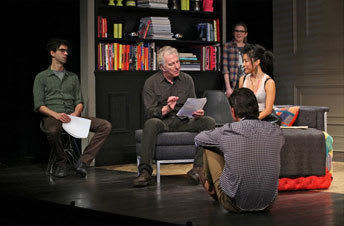 Writing can be a tough business. Seeking guidance may make it even worse if Seminar is to be believed.
Depending on your viewpoint, either its subject is pretentiousness or this piece is merely pretentious. As such, the play seems to do very much the same for the written word that Yasmina Reza's Art did for paintings.
A quartet of wannabes have invested $5,000 each to persuade an editor and writing guru to offer the benefit of his experience and wisdom for 10 short weekly sessions.
At the start, there is a lot going on between the students. Martin loves Kate who reciprocates but Izzy is a sexual tigress, while Douglas is seriously into himself.
As if this wasn't bad enough, all suffer the insecurities of their putative profession and that is before Alan Rickman, playing English Leonard, turns up to inject a new dimension into their collective inter-relationships.
Harry Potter fans will be delighted to see Professor Snape in the flesh but are likely to be more than a little surprised by his new persona as a bitter, cynical failure who delights in belittling those who are probably more talented than he is.
Leonard cynically proceeds to destroy the work and potentially inner well-being of his hosts starting with Lily Rabe's Kate.
On the plus side, the bespectacled blonde has the good luck to live in her parents' oversized, rent-controlled property. She wants to be an earth mother figure nursing egos and writing well but the old man's sexist and ageist destruction of her work puts an end to that.
Douglas played by Jerry O'Connell fares little better, but Hettienne Park's punky Izzy has an effective solution. This involves using her body rather than her mind and sure enough, the old lecher bites, liking her writing for all of the wrong reasons.
The most interesting dilemmas revolve around Martin. Hamish Linklater's character is a bundle of insecurities and possibly wisely refuses to allow Leonard a look at his work. His penurious writer's life means moving in with Kate, which would have been good news for both had voracious Izzy not decided to step in.
The multiplying sexual shenanigans are accompanied by ups and downs on the writing front for all as it is not always easy to tell whether Leonard's literary comments are genuine or sarcastic and his intentions in any way honourable.
Kate comes up with the perfect solution and we begin to see through Leonard as we do through the luxury apartment, which epically lifts to reveal his shabby, book-lined loft, where the audience can view the vulpine man in his lair.
Ultimately, Seminar works better as a meditation on writing, criticism and the ability to publish than as a dramatic work. Harry Potter fans won't be too concerned about that, enjoying the magical experience of seeing one of their great heroes on a stage in front of them.
Reviewer: Philip Fisher