Seventeen
Matthew Whittet
Belvoir Sydney
Lyric Hammersmith
–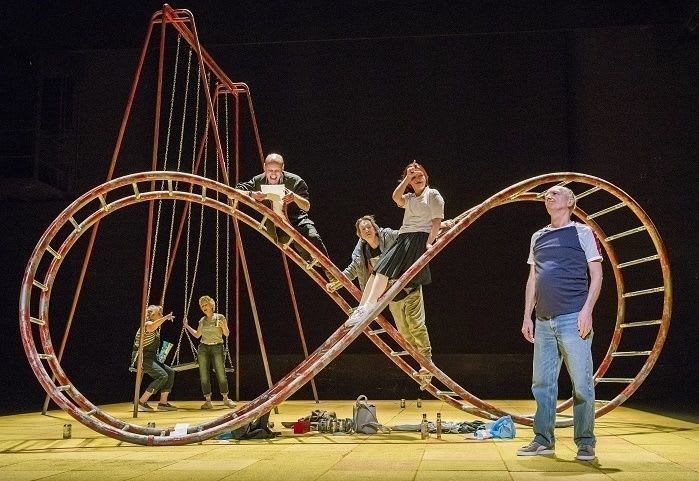 The gimmick that makes this Australian import, which emanates from the highly-regarded Belvoir Sydney company, a little different requires a sextet of actors in or approaching their sixties to portray a group of rowdy teenagers celebrating their freedom on the day of finishing their A Levels.
Dennis Potter did something similar portraying younger children in Blue Remembered Hills, as have others, but the technique is still effective as a means of making audience members think outside their traditional boxes.
If nothing else, it seems fair to assume that the actors, directed in this coming-of-age drama by Belvoir's Anne-Louise Sarks, have a great time, given the licence to regress and clown around in character.
Designer Tom Scutt has created a simple playground containing nothing but the swings of childhood and an infinite climbing frame, designed to symbolise what lies ahead for this typical cross-section of seventeen-year-olds at an uncertain crossroads in their lives.
The first 75 minutes of a production that runs to an hour and a half without interval can feel like a teen soap opera on speed, as the youngsters drink themselves silly, swap partners and generally get lary.
However, hearts and souls begin to emerge in the final straight, leaving a warm feeling as the final curtain falls, which rarely seemed likely earlier in proceedings.
The individuals can seem conveniently stereotypical. Michael Feast plays tediously brash Mike, a bully trying hard to hide insecurities beneath bluster. Like cheese to his chalk is Roger Sloman's shy, sensitive Tom.
Their female equivalents are Mike's girlfriend, Diana Hardcaastle as sexy Jess, who has the social skills and looks but a troubled home life, and Margot Leicester's Emilia aka The Frigid Princess, a sensitive brainbox who lacks confidence.
In many ways, though, the most interesting characters are the two who invade the group and are reluctantly permitted to remain.
Mike's kid sister Lizzy may only be 14 but Sarah Ball's character is more streetwise than the rest put together, combining courage with common sense rare for one of her tender years.
Last but not least, Mike Grady is Ronnie, a born outsider, whose exposure leads to the play's finest moment, allowing the actor to make an indelible contribution in a devastatingly painful set-piece speech.
On reflection, viewers might wonder whether Seventeen would have seemed out of the ordinary with a younger cast but, with the actors on show, the evening redeems itself at the death to justify the effort of staging this UK première.
Reviewer: Philip Fisher