The Sexual Neuroses of Our Parents
Lukas Bärfuss, translated by Neil Blackadder
Gate, Notting Hill
(2007)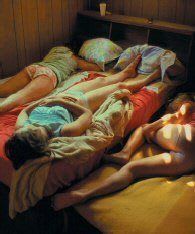 The new era at the Gate dawns with a play directed by Joint Artistic Director, Carrie Cracknell, which is set in what might well become known as Elling country, after the Bush's successful West End transfer. That is a zone in which theatre explores the implications of allowing those eccentrics with mental illness who would have been locked away by previous generations to enjoy life in the community.
Dora, convincingly portrayed by Cath Whitefield, has been sheltered by sedatives for the whole of her life. Now a young woman, her mother (Éva Magyar) decides to release her from medication. As her doctor (Jack Tarlton) warns, this is the equivalent of opening Pandora's Box.
The inarticulate and wilful girl who will never be beautiful tries hard to adjust to a normality that is blocked by too many barriers. To start with, she has the innocence of a child, having had no real experience of life. She happily enters a world in which everything is strange but sex soon becomes an obsession.
In 90 minutes packed with numerous bite-sized scenes, we witness the awakening of a woman who is loving but inevitably destined for disappointments. Despite the support of her Mother and libertarian Doctor, she soon gets into trouble due to the application of a value system that is so far from societal norms as to be universally unacceptable.
Following an initial rape, A Fine Gentleman (Francis Lee) happily beats her and becomes her lover, leaving the girl pregnant with a child that nobody can guarantee will not have inherited his putative mother's unnamed illness.
In quick time, working life goes sour and poor Dora even manages to antagonise her Mum and Dad, while AFG proves to be anything but.
Carrie Cracknell's production shows the remarkable imagination that allowed her to stage A Mobile Thriller in a car. The actors burst on to a bare traverse stage where the scenic locations are identified by illuminated museum cases with dolls house furnishings. The props take some getting used to as well, generally consisting of small cubes on which everything from vegetables and books to male genitalia are depicted.
To add to the unusual effect, scenes are changed by large red and black buttons, after interludes including elements of often sensuous movement accompanying a lively soundscape.
The Sexual Neuroses of Our Parents has been written by a Swiss/German playwright, Lukas Bärfuss who is still only in his mid-30s. It is a sad indictment of our society and its treatment of the mentally ill but offers some rays of hope in the indefatigable optimism of its heroine.
This is a distinctive and promising start from the new Gate regime and the public should await with interest the remainder of the duo's opening season.
Reviewer: Philip Fisher