Shadow Boxing
James Gaddas
Broken Souls
Phoenix Amateur Boxing Gym, Llanrumney, Cardiff
–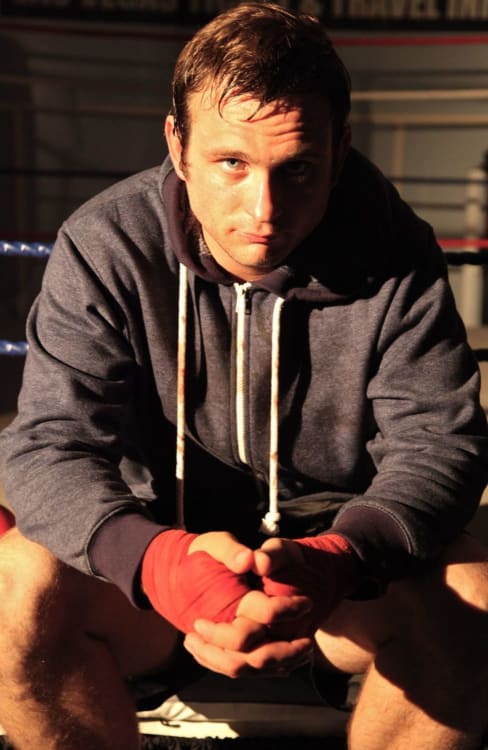 Broken Souls, a new company comprising Cardiff-based actor-directors James Ashton and Alex Harries, have chosen for their first production Shadow Boxing, a play first produced on the Edinburgh Festival Fringe in the 1990s, and apparently only sporadically in the interim. Written by actor James Gaddas, it's a one-man piece, in which a young boxer tells the tale of his troubled career trajectory.
This is a site-specific production; thus the audience is ferried by bus from Chapter, the parent venue, to the Phoenix Amateur Boxing Gym in Llanrumney (one of the Welsh capital's less fashionable suburbs)—apparently one of very few community-run facilities of this kind in the UK. En route, the mood is set not only by the video screen showing local hero Joe Calzaghe's career-defining 2006 defeat of Jeff Lacey, but also the health and safety announcements from director Ashton (the one about not getting too close to the punch-bags proving especially pertinent).
Once assembled in the performance space—a small hall, with the boxing-ring at one end and the walls plastered with posters of pugilists—we encounter Alex Harries's Flynn, unsurprisingly tense and intense, and with several points to prove. Over the next hour we experience his rise to almost-fame via a text which artfully combines narrative, re-enactment and reflection. We learn how Flynn, having watched his father, a failed fighter, being publicly humiliated, embarks on his own quest for redemption and glory.
Harries deals in an exemplary manner with the physical demands of the role (press-ups, sit-ups, some nifty jump-rope action—courtesy of boxing coach Thear Al-Shayei), as well as the storytelling aspects; prowling the space, panther-like, making unblinking eye-contact with audience-members, maintaining a combative if sympathetic mood throughout, as Flynn demands to be understood.
Gaddas's subtly poetic script takes us on a not entirely unpredictable journey, especially given the early hints that sexual angst will be a theme. A few things remain unexplained, though—such as the history of Flynn's relationship with his father, and the precise nature of the climactic incident which lands him in a police cell. The text also throws in numerous cinematic and literary references—an injury is memorably referred to as "Cyrano in reverse"; there's no reason, obviously, why boxers shouldn't be well-read, but a little context might have made this seem less jarring.
I tend to be sceptical about site-specific theatre (ostensibly for intellectual reasons, but mainly because the older I get, the more I value a comfy seat), and there's no reason why Shadow Boxing, performed and directed with as much skill as it is here, wouldn't work in a more traditional venue. But it must be said that the gym atmosphere, in conjunction with Dan Young's clever lighting design, and the sweaty proximity of the actor certainly enhances the hothouse feel of this impressive production.
Apparently this short run is already a well-deserved sell-out; numerous re-stagings are surely inevitable.
Reviewer: Othniel Smith