The Shadow of a Gunman
Sean O'Casey
Tricycle, Kilburn
(2004)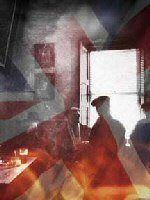 It is rather terrifying that the Irish Problem in 1920, as depicted by Sean O'Casey is still bubbling just under the surface, over 80 years later. The only difference is that the battleground has moved farther north from Dublin. Religious wars more generally still hit the headlines on a daily basis.
Donal Davoren is a romantic poet, played by Aidan McCardle. He shares a busy tenement room, designed by Michael Taylor; and much literary chit-chat with gloomy travelling salesman Shields (Frank McCusker).
Two factors combine to change their unexciting lives. First, an IRA bomber visits and leaves a bag in their safekeeping and then word gets around that Davoren is an unlikely rebel leader.
Much of the play has the characteristics of a fairly light comedy though with deep political undertones. An assortment of tenement neighbours come to pay homage to the "hero". In an effort to impress the tall, flirtatious Minnie Powell, played by stage debutante Jane Murphy who is still at college, Davoren fails to deny the lies.
Increasingly unlikely people roll up including the unpaid landlord, a young aspirant and a Protestant couple. The political commentary is fairly subtle, as the case for and against the IRA's position leaks out amidst the comedy. One change from later times is that the two religions could literally be housed together in relative harmony.
The laughter begins to transform into something darker as death impinges when the bomber is killed. Far worse is to come and fear soon becomes palpable. This is a scary city as director Dominic Dromgoole makes clear with noises off that culminate in a gun battle, which literally shakes the auditorium.
In the denouement with ugly Black and Tans rooting around like animals, the fatalistic Davoren pays a bitter price for his vanity, as heroic martyrdom falls on an unlikely victim.
The Shadow of a Gunman still speaks to today's audience with its exploration of sectarian warfare and insignificant humanity.
Dromgoole's production really captures both period and place. By the end too, the mix of comedy and pathos has the desired affect. With its strong storyline and Irish themes, this should become a Tricycle success.
Reviewer: Philip Fisher