Shadowland

Pilobolus Dance Theatre
Peacock Theatre
–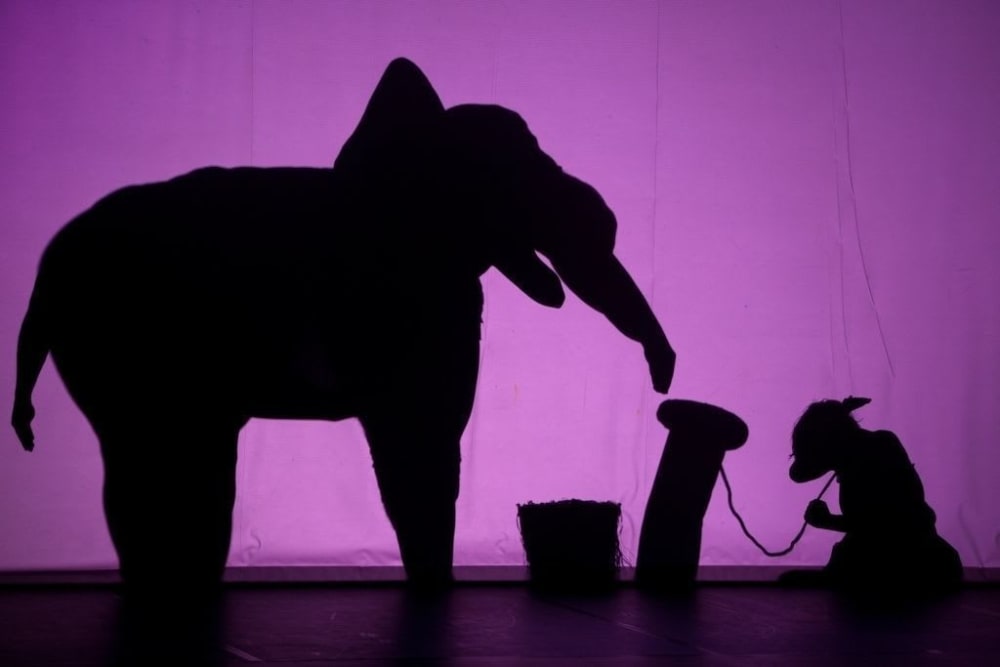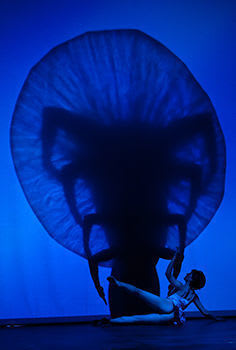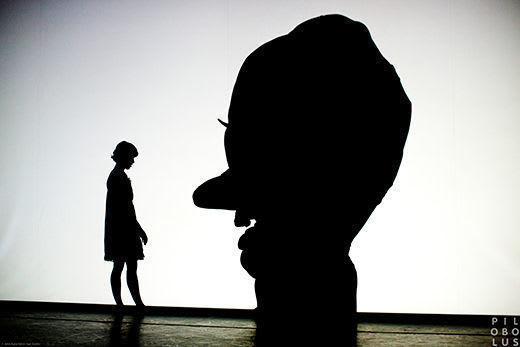 Founded in 1971 by a group of Dartmouth College students, Connecticut-based company Pilobolus—named after a fungus that jet-propels its spores—has seeded wildly and widely. It has been touring '115 pieces to more than 64 countries over the last 42 years'.
Shadowland has been seen by over half a million people across the world in the three years since it was created—so the programme notes tell us. One has to wonder whether there is any need for critics, as word of mouth does the trick admirably.
I must be the only person on the planet not to have seen them before—how I've managed that I don't know. My companion's age is his excuse—he's only nine. And he was entranced. As well he might be. Beats shadow rabbits on the bedroom wall any day.
A jumbled coming-of-age tale (too many cooks possibly): Alice in Wonderland mixed with Grimm's Tales, HP Lovecraft horror and Greek myths, to David Poe's ballads and hard-rock score, Shadowland is a vehicle for the most amazing plasticine pliant constructions, human bodies putty in the hands of an omnipotent god, from blob to frond and animated creatures.
A cast of twelve turns into a cast of many, into props, furniture, and mystical beings—a dog-girl and a centaur, a devouring monster head and a castle, cacti and flowers, tentacled jelly fish and seahorse, an open top car and a jet plane that's something else.
The tricks look simple—oh, it's an elbow and a hand, the dog's head. Like the Pompidou Centre the workings are visible. That is Philobolus's strength. They do not talk down to the audience. We know you know how it's done, but it takes phenomenal split-timing gymnastic teamwork.
And what flexible strong bodies, muscles etched, dancer-fit for the ninety-minute straight-through marathon. Michelangelo's God touching Adam's hand is pastiched to effect in the genesis of each masterpiece, be it a sword swallower having his sword pulled from his bottom or a rearranging of the scenery and dramatis personae.
A young girl, fed up with being the dutiful little daughter, turns into a dog-girl in her dream—man's best friend? With Dick Whittington bundle on a stick on her back she sets off on a picaresque adventure, dangerous—nearly put in a huge cooking pot by chopper-wielding chefs, daring—hitching a lift and smoking a joint.
Swims under water, is captured by circus folk on a duck shoot, and forced to jump through hoops till she breaks her rope with the help of a friendly elephant. Has an erotic sexual-awakening dance with two men, a psychedelic trip, and… back to earth and mum and dad.
I wonder what audiences make of the storyline, for me not Shadowland's best feature. Many, of course, say the visual delights are the point of the piece. The stage pictures come slick and beautiful, perspective in play on big screens and small—the moon rises over three handheld ones, the sun glows big and yellow on a vast stage-filling screen.
Merging front-of-screen choreography with back-of-screen shadow images, dance with circus skills, created in collaboration with Steven Banks, lead writer for the animated series SpongeBob SquarePants, Shadowland is a feast for the eyes, but I'd have liked my mind catered for a tiny bit more, too.
From micro to macro Pilobolus has 'just growed' like Topsy. It has featured at the 2007 Annual Academy Awards, and on Sesame Street, Oprah, 60 Minutes and Late Night with Conan O' Brien, and won many awards.
The Peacock theatre was packed with families braving a mid-week school day and a strange teenage surreal dreamscape, Freudian subtext and semi-naked bodies and nipples.
If you can't make the show, there is now a Universal Studios DVD, filmed in Düsseldorf's Capitol Theatre last year, just out available to buy online. Well worth the money, very in your face on the screen. My nine-year-old friend, still full of it today, can't wait to share it with his mother.
The country-specific encores on the DVD are a bonus: beer-drinking Germans, chien couture and frogs legs in Paris, camel rides at the Pyramids, elephants dissolving into the Taj Mahal and Bollywood in India, and a big 'Thank you' in shadowscapes.
London's stage encore gets a delicious tour of New York and London landmarks, with 'Cheers London' written in flexible bodies in the best fifteen minutes of the show. Do not walk out during the first curtain call. The most memorable is yet to come.
Reviewer: Vera Liber