Shadowlands
William Nicholson
Wyndham's Theatre
(2007)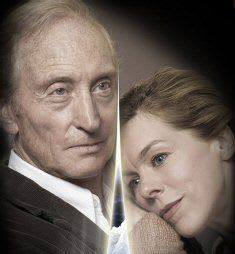 Charles Dance can surely never have given a better or more moving performance than this portrayal of author C.S.Lewis, best known now as the creator of Narnia and The Lion, The Witch and The Wardrobe. He needed to be on top form, following in the footsteps of a pair of theatrical knights, Nigel Hawthorne on stage in London and New York and Anthony Hopkins on celluloid, in a work that was first written by William Nicholson for television.
From the opening lecture to his packed audience, we learn that the man known to his intimates as Jack is far more than a writer of children's fantasies.
Lewis was an Oxford don who specialised in literary and theological research and, as a committed Christian, was well placed to question how a divine being could allow cruelty in the world.
In the early scenes, which feel like a re-working of Sir Tom Stoppard's The Invention of Love, it is hard to believe that the play's focal point has a heart made of anything but stone.
When we first encounter him, Lewis is a successful writer and broadcaster aged 58. He lives with his sparky bachelor brother, a witty Richard Durden playing "Warney"; and has probably not had a conversation with a red-blooded female since his mother died half a century before.
He enjoys living in an enclosed community, surrounded by crusty academic pals led by John Standing's disdainful Christopher Riley, a professor who knows everything about the theory of life and nothing of its practice.
The closest that Lewis gets to the opposite sex is a transatlantic correspondence with an American fan and student of his work called Mrs Gresham. It says a lot that the brothers regard even this contact with the mysterious world of the female as rather racy.
When the lady travels to England and suggests a visit, with Adam Megginson playing little son Douglas in tow, this throws the brothers into an unholy tizzy, so unused are they to social intercourse.
The first meeting is a hoot, as the repressed Englishman, arms tightly folded literally jumps back from an attempted embrace by the open American. Irish director, Michael Barker-Caven has great fun with the remainder of the first half, as two cultures collide head on, the crusties almost turned human by this breath of New World fresh air.
The affection between the writers grows and they marry, but only to give the new Mrs Lewis citizenship after her husband moves on to wife number three during the second Mrs Gresham's absence in England.
The play takes a new turn when Joy, as she is now known, falls prey to multiple cancers. Then Lewis finally allows emotion and love into his life during a remission that is predicted to last weeks or at best months. It actually gives the couple three years of marital bliss before the inevitable occurs.
Dance inhabits this role like a second skin, every tic and movement convincing from start to finish, his character's pleasure and anguish both clearly visible. Janie Dee is convincing as brash but highly cultured New Yorker Joy, a sharp critic of both literature and life. She is both loud and loveable, thus presenting a real contrast with the reserved Englishman for whom every word spoken is agonised over at length.
Michael Barker-Caven enhances the excellent acting and heartrending story with a series of images created by designer Matthew Wright that demonstrate an artist's eye, both in the dark brown wood and books of academe and a couple of brief glimpses into Narnia and Lewis's soul. This is complemented by great lighting from Peter Mumford and well-chosen music.
Shadowlands may sound old-fashioned and rather dry but turns out to be both witty and unbearably touching. It offers the very best kind of understated love story that will challenge anyone to keep a dry eye through some scenes during its two and a half hour duration.
With some great performances, this limited run deserves to be a sell-out. It might also encourage some producer to bring William Nicholson's Broadway hit, The Retreat from Moscow, to London at last.
Visit our sponsor 1st 4 London Theatre to book tickets for Shadowlands.
Reviewer: Philip Fisher