Shadows of War: La Fin du jour, Miracle in the Gorbals, Flowers of the Forest
Choreography by Kenneth MacMillan, Gillian Lynne after Robert Helpmann, David Bintley
Birmingham Royal Ballet
Sadler's Wells
–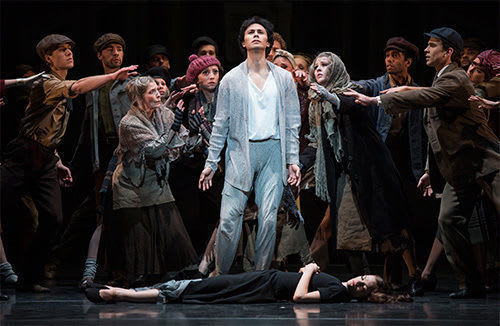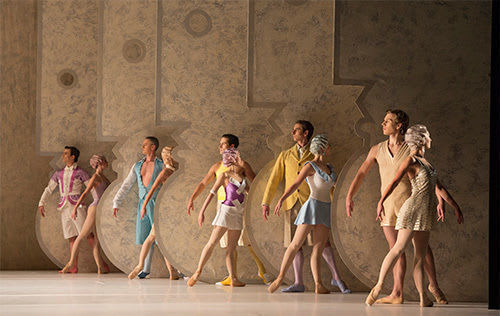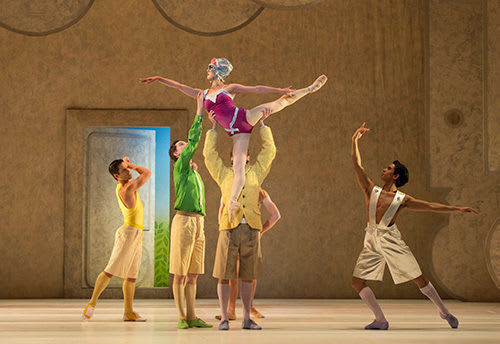 The evening belongs to the indomitable, ageless Dame Gillian Lynne, who needs no introduction: former theatre colleagues, impresarios, directors, composers, friends and well-wishers line up to speak to her during Birmingham Royal Ballet's Shadows of War two intervals.
Dancer, choreographer, director, who hasn't she rubbed shoulders with, and she brings this legacy to her re-creation of Robert Helpmann's 1944 Miracle in the Gorbals, the main dish of BRB's three-course offering.
Last seen in 1958, a piece of theatrical dance drama history is restored as much as it can be from archives, from pooling memories, from dancing as a young girl in her friend 'Bobby's' production in war-torn Europe: an homage to a man whose dramatic storytelling style Lynne emulates.
Pitch black darkness. Sound of bombs whistling, aircraft noises, explosions, and sirens—we're in an air raid shelter. And curtain up—on a stunning reproduction of Edward Burra's magnificent front cloth, the hull of a ship in dry dock, and music by Arthur Bliss that melds warning and grief, fears and tears…
Front cloth lifts on teeming Glasgow tenements, the Shamrock Bar, Mac's Fish Shop, laundry hanging across windows, street urchins, washerwomen, overflowing rubbish bins, smoking factory chimneys in the background, a violin-playing Beggar stooping for dog-ends. The period detail is remarkable.
Young Lovers (Yvette Knight and William Bracewell), a Prostitute (Elisha Willis), an impoverished Suicide (Delia Mathews), a do-gooding man of the cloth who is not all he seems, old busybodies, women in curlers under scarves, and a Stranger (César Morales strikingly different) who raises the Suicide from the dead.
Allegory and social comment, crowd manipulation and socialist realism: of course the sandal-wearing Stranger's character must be maligned and seen off—the hypocritical Minister (Iain Mackay) sees to that. Knives, razors, crowbars are pulled and the obvious takes place.
A fast-moving, gritty drama, characterisation and performance are excellent throughout, especially the all-seeing Beggar (Michael O'Hare), and crowd scenes are skilfully constructed.
Original Edward Burra designs reworked by Adam Wiltshire, scenario by Helpmann's partner Michael Benthall, lighting by Peter Teigen, and a large cast make the forty-two-minute tension-tight Miracle fly by. I'd like to see it again.
Bookended by the twenty-five-minute amuse-bouche of Kenneth MacMillan's ironic La Fin du jour, which he'd wanted to call L'Heure bleue, a more evocative title sadly vetoed by Guerlain, and David Bintley's twenty-nine-minute bright-eyed Scottish dances, Miracle in the Gorbals packs a punch.
MacMillan never pulled his punches, but in this 1979 ballet inspired by Ravel's 1932 Piano Concerto in G Major, he lets go and lets his bright young things dance themselves silly between the two world wars.
Clockwork dolls, playthings, art deco trophies carried around by over-attentive young men, not a care in the world, twist and turn whilst long-legged men (Brandon Lawrence and Tyrone Singleton) jeté like gazelles around them.
Jazzy 'Great Gatsby' music (solo piano played by Jonathan Higgins), Ian Spurling's sherbet-coloured costumes, aviatrices, Biarritz beauties, lazy golfers, evening dandies and glamour girls fizz and dance their days and nights away, blinkered by their goggles and cloche caps.
Bintley's 1985 Flowers of the Forest (his 'second professional ballet'), named after an ancient Scottish folk tune that became a lament for the Battle of Flodden, is jaunty, witty, solemn and proud.
In front of Jon Goodwin's arresting painterly backcloth, Scotland's green fields of purple heather under lowering skies that darken under Peter Teigen's moody lighting, lads and lassies do what lads and lassies do. The boys get drunk; the girls dance a reel, stepping daintily over comatose bodies and dead legs as if they were crossed swords.
Matthew Arnold's merry Four Scottish Dances are teamed with Benjamin Britten's Scottish Ballad, 'moving from light to dark'. Led by Mathias Dingman and Elisha Willis, lairds and their dignified ladies tell a different tale of brother-in-arms and their fealty.
It ends on a hopeful note, in a fast medley for all: the sheer joy of dance, the wind lifting their kilts, the men in bravura display.
Reviewer: Vera Liber