The Shakespeare Ladies Club - Tales of Georgian London
Alison Neil
Hall Place, Bexley
(2009)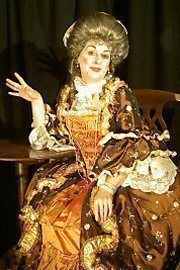 There is something rather fitting about seeing this play on Georgian London in a historic setting such as Hall Place. One can imagine the real Mrs Cowper De Grey, all lace cuffs and piled-high curls, wandering the panelled rooms admiring the Englishness of it all.
Mary Cowper De Grey was a Lady of Quality in a period where pride in all things English equated to an act of patriotism to the homeland: it was a country at war and at the centre of an expanding trading empire, enlightened and on the verge of industrial revolution. Her character is the vehicle through which we learn the true story of a group of gentlewomen who form a club to promote the then unfashionable work of Shakespeare "for the sake of England", and whose work culminates in the provision of a monument to the Bard that is bigger than that to Milton as a point of political point scoring.
The tale of the Shakespeare Ladies Club is more than a theatre documentary though; it is an entertaining insight into the privileged side of Georgian society and a delightfully jaunty biography of Mary herself, brought up to be a good natured ornament, "unburdened by knowledge", whose story reveals a tenacious and resourceful character hidden under the decoration.
The second act exposes grimmer tales of exploitation and poverty in the parallel story of Kate Worthing, a resolute but proud young woman who grows up to make something of her life against the odds. In this episode we are introduced to a London that the affluent were only just beginning to acknowledge a responsibility to and, through the letters between Kate and her sister in Devon, an equally harsh existence for the poor who live off the land is painted.
This play, which is written and performed by Alison Neil, is meticulously researched and packed full of period detail, its dense historical fact made human and pleasurable with stories of courage and love, peppered with contemporary resonances, humour and asides about the fashion for mouse-skin eyebrows and other peculiarities.
By necessity this is an animated piece and a feat of energy for Ms Neil who assumes a host of persona in her recounting of the lives of two such different figures as Mary Cowper De Grey and the fictional Kate Worthing. Their portraits make for an engaging piece and Ms Neil shows herself to be a master storyteller.
"The Shakespeare Ladies Club - Tales of Georgian London" is touring with Alison Neil's newly released play "Living the Light"
Reviewer: Sandra Giorgetti