Shakespeare in the Theatre: Trevor Nunn
Russell Jackson
Arden Shakespeare
Released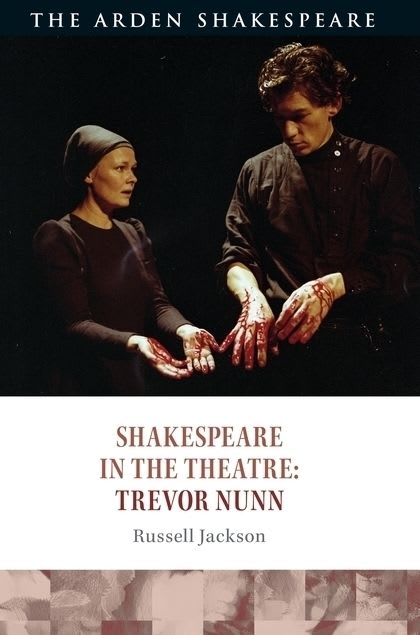 This volume in the Arden Shakespeare Series provides a thorough overview of the Shakespearean work of Sir Trevor Nunn, one of the most significant figures in British theatre in the late 20th century, having run both the RSC and the National.
The duality of this director's approach to theatre had been perfectly summed up by critic Robert Cushman as far back as 1976. He identified two Nunns, the "showbiz Nunn", who "turns as much of the show as possible into a musical", and "the alert and scholarly Nunn, combing the text to amplify the story".
It is this dichotomy that makes Sir Trevor Nunn such a fascinating study, particularly in the context of a career working with Shakespeare's plays that now stretches to over 50 years.
Russell Jackson, Emeritus Professor of Drama at the University of Birmingham, proudly proclaims that he was lucky enough to see all but two of the Nunn Shakespeares in Stratford, making him perfectly qualified to write this volume. A simple style matching great clarity of thought process adds to the attractions.
The intention is very simple. Professor Jackson seeks to give readers as much information as possible about all of the major Shakespeare productions directed by Sir Trevor Nunn on small and large stages. The author achieves this by utilising his own memory, films where they are available as well as the views of critics and other observers.
In particular, there are in-depth sections on two chamber RSC productions that were filmed. Macbeth starred Sir Ian McKellen and Dame Judi Dench as the murderous couple while Othello featured performances from American opera legend Willard White in the title role opposite the ubiquitous Sir Ian's Iago.
In addition to analysing works from the Shakespearean canon, Russell Jackson sets this work into context, referring to the great director's roles at the major theatres in addition to his other work and sometimes competing Shakespearean productions presented at around the same time.
All in all, this is a comprehensive and very readable analysis that will prove invaluable to directors, designers, actors and general readers.
Reviewer: Philip Fisher