Shakespeare on Stage Volume 2: Twelve Leading Actors on Twelve Key Roles
Julian Curry
Nick Hern Books
Released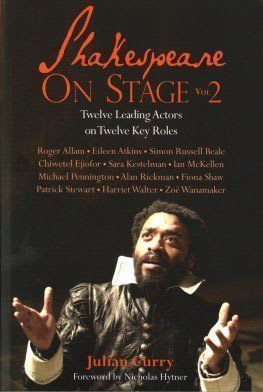 Readers may remember an enthusiastic review of the first volume of what is now becoming a fascinating series.
In it, actor turned author Julian Curry interviews a dozen actors, every single one of them distinguished. Their subjects are great Shakespearean roles, although in quite a few cases the parts chosen are less obvious, which is not necessarily a bad thing.
Running in alphabetical order from Roger Allam and Dame Eileen Atkins to Dame Harriet Walter and Zoë Wanamaker, the cast list is distinguished in the extreme, also including the likes of Simon Russell Beale, Chiwetel Ejiofor, Sir Ian McKellen, Sir Patrick Stewart and Fiona Shaw.
Julian Curry has tried to keep two relatively standard questions, allowing readers to compare in contrast both ways in which these actors have built up the characters and also the directorial styles that have underpinned the chosen productions.
These cover a period of over 50 years, since Eileen Atkins first played Viola for the RSC in 1961 before returning to the role 17 years later.
In terms of directors, perhaps the most intriguing interview is with Sara Kestelman who played both Hippolyta and Titania for Peter Brook in the RSC's A Midsummer Night's Dream back in 1970 and lived to tell the tale.
Everyone will have their own favourites from this selection but having thoroughly enjoyed Roger Allam's Falstaff, Simon Russell Beale playing Cassius, Zoe Wanamaker as Beatrice and Sir Ian McKellen's magisterial Lear they were particular favourites, while Patrick Stewart is thought-provoking regarding an unusual reading of Shylock but it can often be as informative to read about productions in the past that one has not seen.
In particular, Michael Pennington is passionate about Timon, as is Alan Rickman who was asked to talk readers through one of the lesser Shakespearean roles, Jaques.
While the marketers might direct this volume towards actors keen to emulate the leaders of their profession and/or directors wishing to get a few tips, it is also a good read for fans of the performers, Shakespeare or acting in general.
Reviewer: Philip Fisher