Shakespeare: The Man Who Pays the Rent
Judi Dench
Penguin Michael Joseph
Released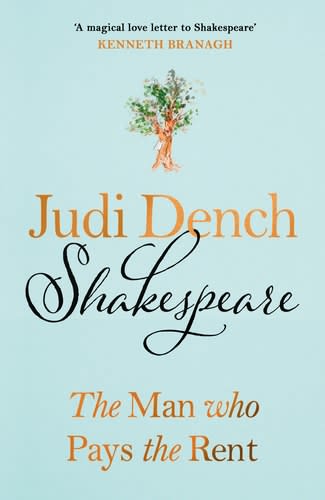 The accreditation on this book's cover is grossly unfair to Brendan O'Hea, who interviewed and moderated Dame Judi Dench for what is a lively and amusing simultaneous view of the work of the greatest living playwright and one of his leading exponents.
Indeed, if a poll was carried out to establish today's best and certainly favourite living actress, there is every chance that Dame Judi Dench would come out on top. While she has rarely appeared on stage in Shakespearean productions in the last few decades, her experience on stage and screen from early RSC days onwards is second to none.
The actress's love of the playwright shines through as she describes him in glowing terms: "Shakespeare is an international language, a beacon for humanity, and a bridge across cultures. His writing encompasses the minutiae of everyday life. When you come to do the plays, you often recognise something you've never been able to articulate. He is able to express what it is to be human in the most concise way".
She seems to have played every major female role and quite a few of the smaller parts, although, bucking today's trend, none of the men.
Brendan O'Hea, who has been a long-term friend and occasional acting collaborator, does a fine job of marshalling the Dame's thoughts, rarely dampening down her chatty and witty repartee while drawing out much wisdom.
As a result, readers can enjoy a deep analysis of text and interpretations from the days when Shakespeare was still played straight, rather than as a device to achieve a director's ambitions, leavened by plenty of biographical information and numerous anecdotes.
Dame Judi sums up her approach by saying, "our job as actors is to tell the story and fill in as much of the characters' intentions as we possibly can. But there has to be room for the audience to ask questions."
For the most part, the duo run through the majority of plays in the canon in a linear fashion, O'Hea using his own knowledge to draw out recollections from an actress who conveniently has a photographic memory.
The chapters on individual plays are combined with others on specific aspects of the theatre and acting life. Along the way, we learn about favourite collaborators and their methods, especially the RSC directors from the early days—Peter Hall, John Barton and Trevor Nunn—and are subsequently able to share her deep affection for Kenneth Branagh.
The best sections tend to be those on plays where the lady has played more than one part in a play, for example The Winter's Tale and King Lear, in each of which she has taken the three major female roles over the years. This enables her to offer differing perspectives that build to a satisfying whole.
There may be no index or photo collection but, as compensation, the text is broken up by a series of sketches drawn by Dame Judi Dench herself.
The structure of Shakespeare makes it very readable but never diminishing its value as a historical reminder of the RSC in its pomp, an overview of its author's life and also a mine of practical advice that is so rich that it will be of value not only to aspiring (and even experienced) actors and directors.
Reviewer: Philip Fisher