Shakespeare Triple Bill: Wink / The Moor's Pavane / The Shakespeare Suite
Choreography Jessica Lang, José Limón, David Bintley
Birmingham Royal Ballet
Sadler's Wells
–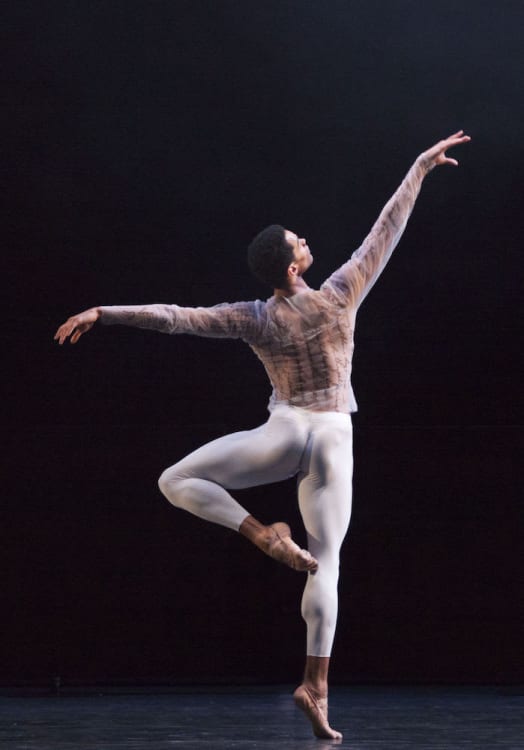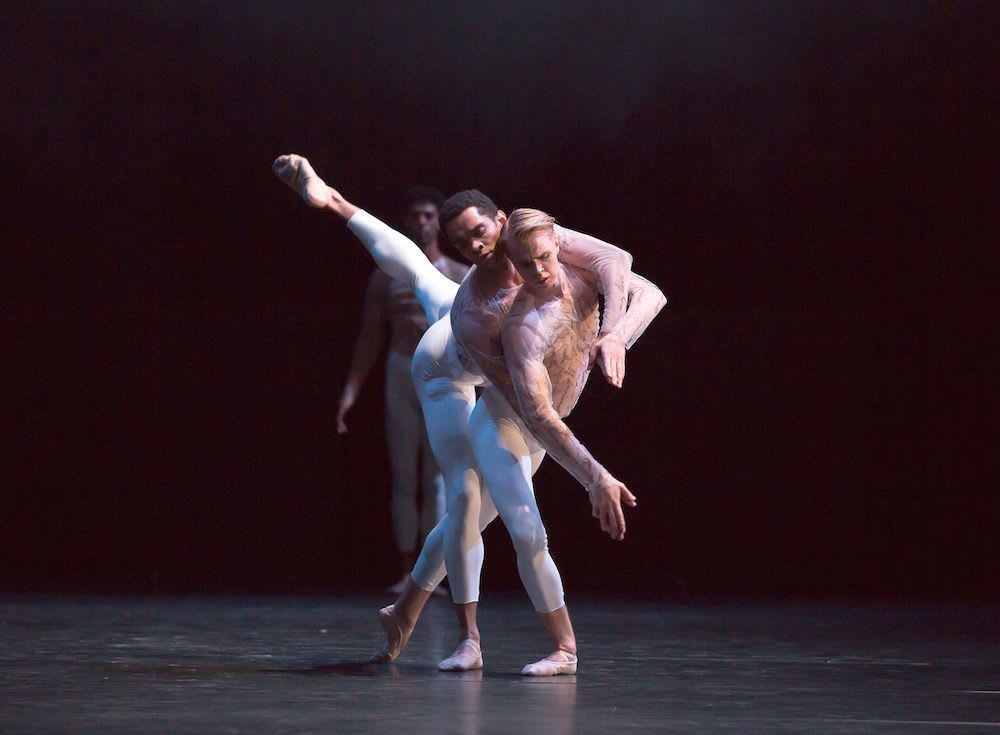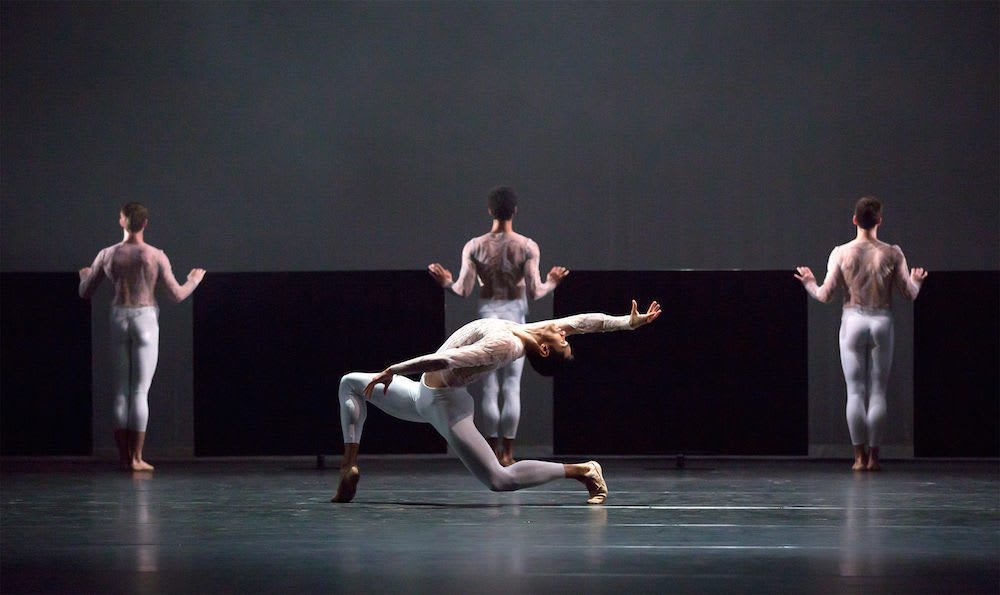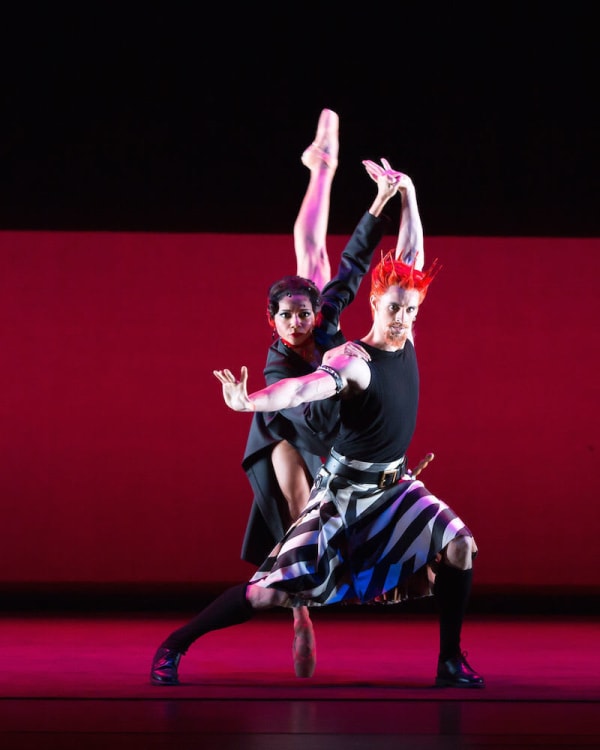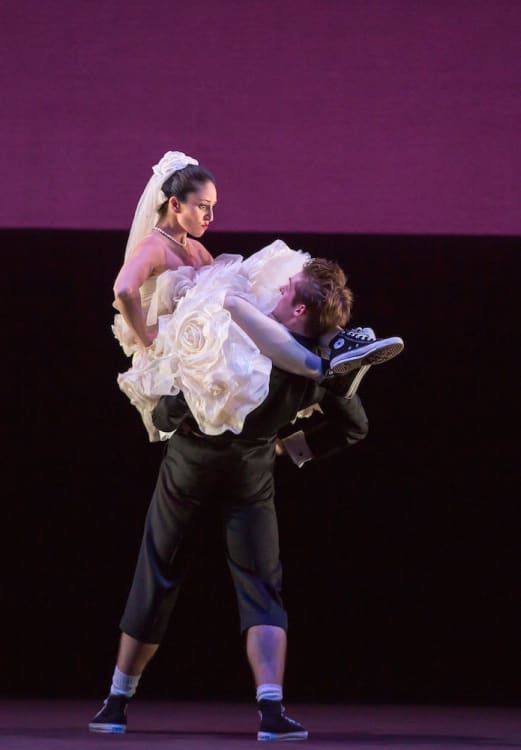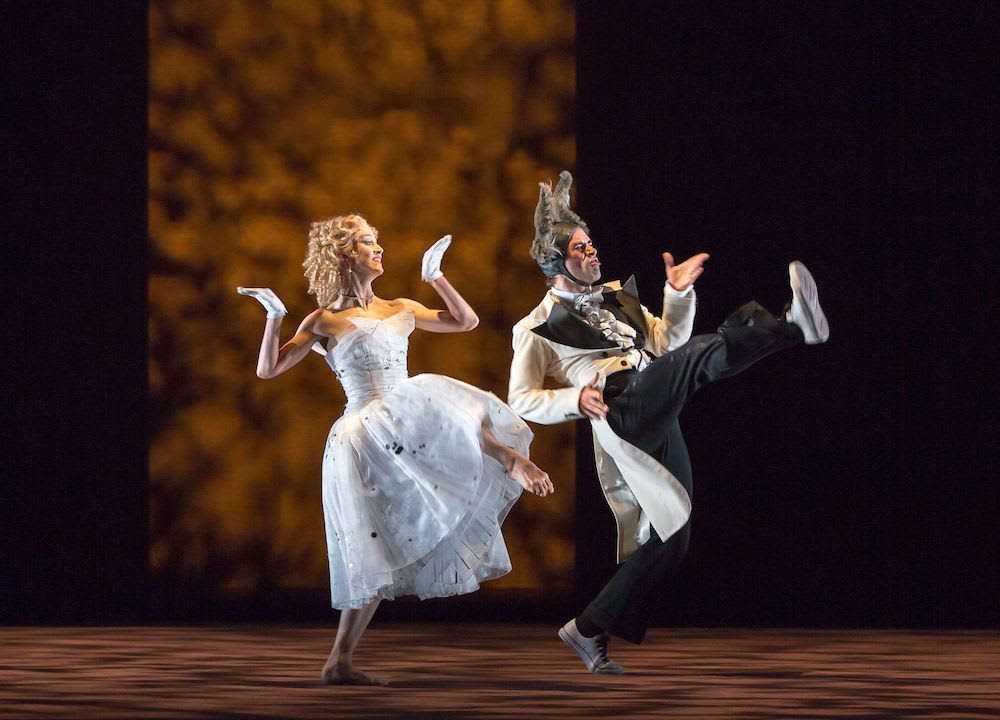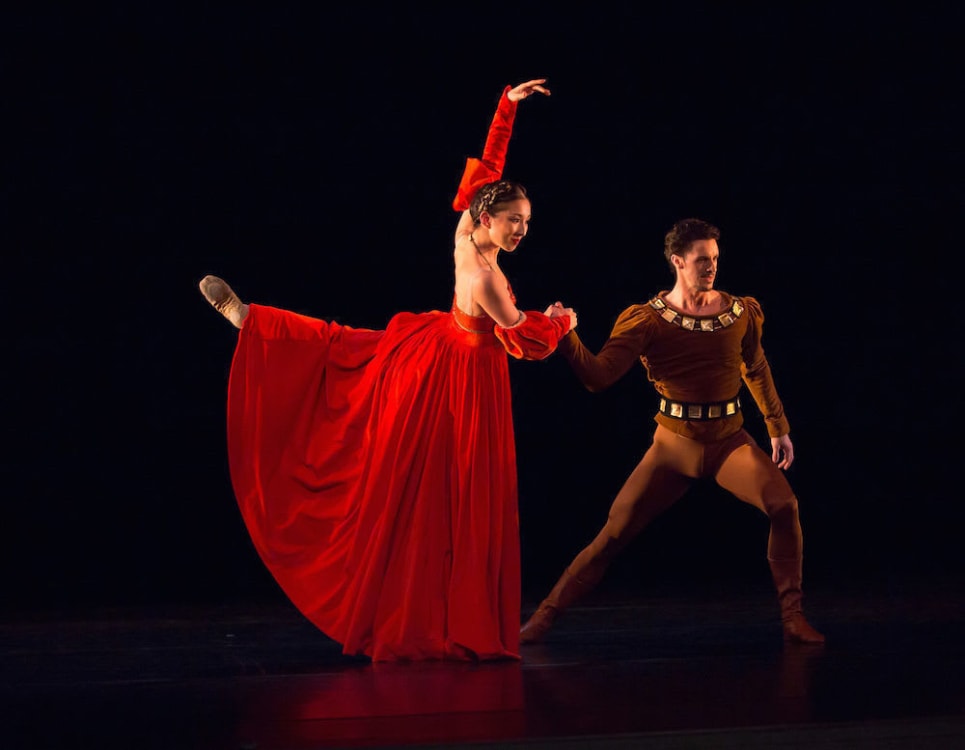 Dancing, music and choreography to stimulate the brain, trouble the soul, and then warm the cockles of the heart in glorious celebration of the Bard's legacy: Wink, The Moor's Pavane and The Shakespeare Suite have all in good measure.
Sonnets written on the body—Elaine Garlick and Suzanne Parkinson's gauze thin costumes imprinted with lines of script remind me of Peter Greenaway's 1996 film The Pillow Book—Jessica Lang's new work, Wink, for Birmingham Royal Ballet, inspired by the exquisite poetry of Shakespeare's sonnets, is beautiful and inspiring in its own turn.
Layers of meaning, layers of creativity: Jakub Ciupinski's music, its dreamy cello; Mimi Lien's minimalist set design of rotating square panels—winking panels shaded black, white and grey by Peter Teigen's subtle lighting—blinking through life's troubled brevity, its loves, little sleeps and disturbing dreams.
Sonnets (read by Alfie Jones) 43, 30, 64, 40, 71 (a prompt to seek them out as soon as one gets home), are written into the bodies of ten dancers in sonnet form—how clever is that…? Its structural architecture expressive of content, meaning, passionate life itself, the half-hour-long Wink requires several viewings, a classic in the making.
Statuesque Brandon Lawrence, the magician 'wordsmith' and manipulator of the piece—his solo watched by the component word phrases of the choreography, the nine dancers that will step forth into expressive exposure from behind those swinging door panels in L-shaped arrangement.
Couples dance thoughts and emotions; he dances with another man, protective, consoling. Melancholy music gives way to a jauntier note; life takes on a lighter spring in its feet, warmth enters the cold. Three men raise a woman high, four strong men raise their fists, but can they stop life's inexorable toll. The panels spin.
The final tableau brings them together as one—the composite sonnet is complete—there is great power in that. "Remember not the hand that writ it", the sonneteer sighs, nor "rehearse" his "poor name"… Four hundred years on BRB are contradicting him with finesse.
José Limón's 1949 The Moor's Pavane, reconstructed by Jennifer Scanlon, is performed with studied finesse by Tyrone Singleton as The Moor, Delia Mathews his Wife, Iain Mackay his Friend, Samara Downs his Friend's Wife.
The psychology of Othello distilled into twenty-three minutes through solos, character-defining gestures and posturing stances, a dance of life and death, the veneer of civilized society (courtly dance) stripped away to the basics.
Mackay, hair slicked down, is a persuasive creep hanging on Othello's neck, a weight on his soul; Singleton too proud; Mathews a delicate flower; and Downs a game woman playing a game she's not fully aware of. And then there's that incriminating handkerchief.
The jigsaw pieces fall into place subtly and quickly. Whilst two dance the other two stand lost in time, in frozen poses, in telling tableaux vivants. Costume (Pauline Lawrence) completes the signifiers: Iago is in treacherous brown; Emilia in riotous red; Desdemona in pure white; Othello in regal purple, a long robe that obstructs and impedes.
Interesting that Limón choreographed (like Merce Cunningham) the whole piece before finding the right music for his Pavane, but who better than the sublime Henry Purcell.
From the sublime to the ridiculous, The Shakespeare Suite: David Bintley has tongue-in-cheek fun with a menagerie of the master's characters in a slapstick pot pourri revue style show. Duke Ellington and Billy Strayhorn's heavenly music, "Such Sweet Thunder", provides the cabaret swing, its instrumental solos underlining personality traits.
Mathias Dingman's head-case Hamlet opens with a tremendous solo. Dancers in black kilts (the men) and fifties pedal pushers (the women) back him up. Beatrice Parma has fun with "shrew" Kate in baseball pumps and wedding dress—waxed hair buffoon Lachlan Monaghan stands not a chance as she rides on his back.
Arancha Baselga's Lady Anne in black cocktail dress, Valentin Olovyannikov's Richard III in shades, tuxedo and red nose, attempt a Fred Astaire seduction number—"was ever woman in this humour woo'd".
Iain Mackay's kilted Macbeth is out of Trainspotting, pink punk hair spiked into a crown, his Lady in split culottes is funky high-kicking Céline Gittens. Tyrone Singleton and Delia Mathews reprise Othello and Desdemona: he smouldering, bare-chested and in long dreads.
There's not much you can do with Romeo and Juliet (William Bracewell and the lovely Jenna Roberts) but the usual cliché—much of this production relies, deliberately I guess, on cliché. West Side and East Side story…
Titania and Bottom (Momoko Hirata with Kit Holder in black leather flared pants) are drunken party revelers. I wonder how many Hollywood films has Bintley cannibalized, but it's all popular good fun.
Then they all change partners—I'll let you imagine the possibilities. Now Kate would give Othello a run for his money. Hamlet is a train crash waiting to happen. He blows out the candle…
The curtain call is lively, and Jasper Conran's costumes are spot on. Peter Teigen's (after Steven Scott's 1999 original) vivid cerise lighting highlights the cartoon element of the show. The best is Ellington.
A terrific evening, a pity this triple is on for such a short run in London, and Monday night is a bit quiet, but exhausted though I was after a long and hectic Sunday (don't ask) I enjoyed almost every minute.
Reviewer: Vera Liber