The Shape of Things
Neil Labute
New Ambassadors
(2004)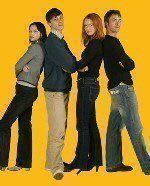 The Shape of Things made its first appearance in Britain at the Almeida Theatre three years ago and was a runaway success. It was directed by the playwright and starred Rachel Weisz in the lead role as art student, Evelyn, supported by a strong cast consisting of three budding American film stars. Last year, the same creative team converted the production into a film that also enjoyed success.
Now American director Julian Webber has revived the play with a cast that shows an element of role reversal. It has the woman Askmen.com describes as "the redhead to watch out for in Hollywood", Alicia Witt, in the starring role, flanked by three young English actors.
Evelyn is a cute student and this is where the star of Cybill and The Sopranos, not to mention over a dozen movies, is in her element. When she picks up geeky fellow student, Enzo Cilenti's (Late Night Shopping, 24 Hour Party People) Adam in an art gallery you can understand why he is completely bowled over. This is the biggest mistake of his life.
Evelyn begins a makeover that converts sensitive Adam into a hunk who will no longer speak to his best, and indeed only friends. They are the rather cardboardy and dull Phillip and Jenny, played respectively by James Murray and Sienna Guillory (Take a Girl Like You).
The main thrust of this gripping drama is only revealed when Evelyn, looking like Anne Robinson on a mean day, begins to deliver her final lecture in support of her semester project, an "installation thingy". She is then revealed as a heartless bitch who has used Adam, rather like Professor Frankenstein with his monster.
Where the original production and, in particular, Miss Weisz were constantly gripping and the coup de théâtre drew shocked gasps from the audience, sadly the same cannot be said of the 2004 version.
While Miss Witt is engaging in sweet teen mould, perhaps to her credit she is less than convincing when Evelyn turns nasty. Cilenti is generally good, although his reaction to his treatment is understated. Neither of the other actors looks entirely comfortable on stage.
Neil Labute is a good writer and despite the production's shortcomings, this is a witty play that explores the nature of art and the way in which people treat each other and allow themselves to be treated. However, unless you are a fan of one of the big-name actors, it may be as well to stay at home and watch the movie.
Reviewer: Philip Fisher