The Shawshank Redemption
Owen O'Neill and Dave Johns, based on the short novel by Stephen King
Wyndham's Theatre
(2009)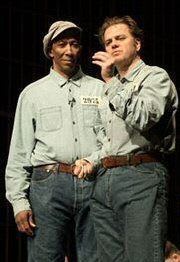 Yet another cult movie hits the West End with the arrival of this stage version of the gritty prison drama The Shawshank Redemption, adapted by Owen O'Neill and Dave Johns.
The comedians turned scriptwriters have created a pacy, escapist entertainment from Stephen King's novel of life amongst the murderers incarcerated in Shawshank Prison, Maine, during the 1950s. These are real brutes who act like animals, encouraged or at least hardly stemmed by the authoritarian staff, whose own behaviour at times makes them hardly distinguishable from the convicts.
The producers have shipped over two American screen stars to supplement a large, British/Irish cast. Reg E. Cathey from The Wire plays the Morgan Freeman role of narrator and prison fixer, Red. This is a man who can get you anything, apart from his own parole.
He plays second fiddle to Steppenwolf-trained, Sleeping with the Enemy star Kevin Anderson in the plum role of Andy Dufresne.
The banker imprisoned for murdering his two-timing wife and her golf pro lover is too good to be true. He inevitably proclaims innocence, stands up to the regulation prison tough guy rapist and eventually becomes not only prison librarian but also accountant and tax adviser to the guards. With his polished manner and intellectual powers, Dufresne is a kind of an American version of Noël Coward in The Italian Job.
However, his biggest influence is on the born-again Christian Warden (Governor on this side of the Atlantic). A tough institution needs a rod of iron and this is exemplified by the bullet-headed Mitchell Mullen as Warden Stammas, who makes some of his charges seem relatively angelic.
The play builds through a series of mini dramas, a rape, the assertion of power by our hero, a battle for library supremacy, Andy's adoption of a willing young disciple, Diarmud Noyes's Tommy, and then some literally unbelievable shenanigans.
It eventually gets to a novel and almost heart-warming climax as the good guys emulate butterflies heading into a sunny future and the baddies get their long-awaited comeuppance.
Peter Sheridan's transfer from Dublin leavens the scenes of inhumanity with a good dose of humour and effortlessly holds the attention throughout, thanks in part to high quality acting from the two leads, well supported by Mullen and the charming Geoffrey Hutchings playing Brooksie the timid librarian who is terrified of release after 35 years as a prisoner.
The writing team wisely decides not to compete with the majesty and epic scale of Frank Darabont's 15-year-old movie version. They also ignore much that was seen on the screen to simplify the story while adding their own flourishes, emphasising the claustrophobia and gallows humour which is inevitably in sharper focus in a production that takes place entirely within a cage. The simplification comes at a cost, since there are odd baffling moments, as too much is cut to leave sense on a couple of occasions.
The Shawshank Redemption is a thriller rather than high art with a few too many convenient plot twists and caricatures. Even so, with a devoted following from its existing incarnations, the stage version may well reward the enterprising producers, who believe that they can make money from a straight play with a large cast in the West End even during a recession. Good luck to them.
Reviewer: Philip Fisher