She Stoops to Conquer
Oliver Goldsmith
Olivier Theatre, National Theatre
–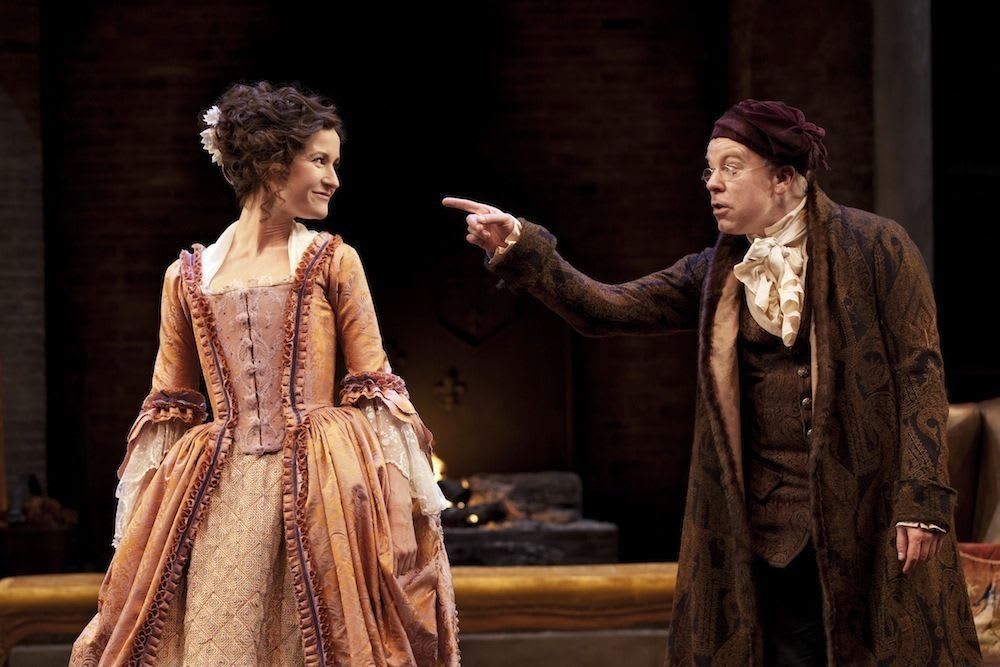 She Stoops to Conquer is not only one of the greatest comedies of its own time but of any other. Oliver Goldsmith wonderfully combines character, comedy and plot to create streams of laughter.
One measure of the play's timeless reach is the fact that before too long, She Stoops will celebrate its 250th anniversary and, even at this esteemed age, is still regularly revived for yet another generation to delight in.
In its latest incarnation, Jamie Lloyd attempts to imprint his own directorial stamp in a fashion that is too easily invoked when The League of Gentlemen's Steve Pemberton as Mr Hardcastle, a country gent with a daughter to marry off, announces of his prospective son-in-law "this is over-acting, young gentleman".
It is not just the young gentleman that reinforces every line with frequently thoroughly modern gestures, so too do the whole cast, which can get wearing but never overwhelms the pleasure of the piece.
Designer Mark Thompson makes the most of the Olivier stage. For the majority of the evening, the two main settings use either side of a long wall on the revolve but in the woods, this impressively disappears to bring back happy memories of Frankenstein last year.
As with Jessica Swale's period pieces at Southwark Playhouse, the action is complemented by (in this case wordless) song and movement that brightens the set changes though becomes a touch repetitive by the end of the 2¾ hours.
The fun starts as two young fops come down from London to woo a couple of local lasses. They are literally misguided by David Fynn as Tony Lumpkin, a rich, oafish young fool with a gift for mischief.
Rather than their host's country house, the men believe that they have arrived at an inn, displaying behaviour that shocks Hardcastle and his wife, played by Sophie Thompson, not to mention their beautiful daughter, Kate, played by Katherine Kelly.
The love affair, in the eighteenth century sense, between Harry Hadden-Paton's Marlow and Kate almost stalls before it starts. This is because, despite his schizophrenic raffishness with servants, the young man is painfully shy in the presence of quality, particularly when the packaging is young and female.
Their burgeoning affection between the leading pair is mirrored by their close friends, Cush Jumbo and John Heffernan respectively playing Constance and Hastings.
Katherine Kelly may be best known as Becky McDonald in Coronation Street but proves herself a versatile stage actress. While her lover alternates between "bashful" and "brazen", Kate is fearfully intelligent and wilful but, in addition to her appropriately maidenly modesty, she becomes a sly seductress when the need arises.
While some of the physicality can detract from the simplicity and period setting of a classic, this is still an enjoyable evening that might well have great appeal to modern tastes.
Reviewer: Philip Fisher