Hofesh Shechter - The Choreographer's Cut: Uprising / In Your Rooms

Sadler's Wells at the Roundhouse
(2009)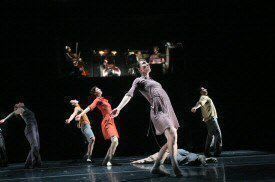 A sublime evening of music and dance by a young man who composes his own music for his own choreography - after all, he says, as a composer he knows how to please the choreographer. Twenty musicians and seventeen dancers (ten men; seven women) - dance and play their socks off, especially the percussion, which drives the atavistic primeval pulse of the dance.
An organic life force bursts out of the smoky gloom of the moodily lit Roundhouse railway shed, its pit crammed with young bodies as at a rock gig - with the musicians jamming before and after the show. Lighting design by Lee Curran is striking, sculptural, and effectively a camera shutter - one minute there are rows of dancers, the next only one dancing under a spot. And it certainly hits the spot.
Quite a showcase for all concerned - sadly only for two sold out evenings at the Roundhouse. But Shechter's company is resident at the Brighton Dome, where he will be premiering new work during the May Festival. You have been primed. It promises to be interesting. And he only arrived in England in 2002.
He's been wasting no time. Hofesh Shechter is much in demand these days. Not only has he choreographed for Channel 4's teen drama Skins, but also for the National Theatre (Saint Joan), and the Royal Court (Motortown and The Arsonists).
Shechter has a strong sense of the theatrical in the re-staging of his two major pieces, Uprising (2006) and In Your Rooms (2007), enough to fill a 1500 venue so different to the 300-seater Place where the works were first seen. It's the first time they are danced to live music, too - the pieces are rejuvenated. The music alone is worth the entrance fee. The band, dramatically lit on its elevated stage above the dancers, is equal partners with them. So, an occasion, one might say. The anticipation is palpable - Shechter plays on that, keeping the dancers off the stage while the band plays. An occasion that lives up to expectations.
Shechter's studies in drum and percussion, and his dance experience with the Batsheva Dance Company come together in his work. Ohad Naharin's influence is evident in the supple repetitive movements amplified by a large ensemble. And the pounding rhythm (with a mixture of motifs, some Middle Eastern, some contemporary drum and bass) that drives the collective, the tribe, comes from there, too. But the beat is all his own.
Uprising is all about men. You know, boys will be boys, running, jumping, spinning, rolling, fighting, playing at war. Simian movements, natural evolution, creatures just crawled out of the primordial slime. Forty-five minutes of chest-beating testosterone-fuelled acrobatic energy. With moments of tender gentleness, repose, and is this grief? Is Shechter making a political statement?
In Your Rooms (also about 45 minutes long) is a more meditative rambling piece for the whole company, though no less dynamic, if more diffuse and less focused. Seated in Buddhist / Mullah praying pose, upper bodies fluid, arms jiving and punching the air, hands performing ablutions, then dancing in diagonal lines, faster and faster in ungainly disarray. Repeated group moves (strength in numbers), and splintering groupings have a narrative of sorts, signposted by a spoken text - about the cosmos, about order and chaos - "sometimes wars replace feelings"; "you need to detach yourself in order to attach yourself". Platitudes and the huddled masses - if the dancing were not so exhilarating and the stagecraft not so striking, there might be a danger here of banality. "Can someone tell us where to go" Shechter needs no telling.
And the dancers, standing in a long line, give the best reverence I've ever seen. It brings the house down. A stylized, slow samurai bow, a sharp turn, and a loose-gaited walk back into the darkness from whence they came.
This is "the first of 12 Sadler's Wells off-site productions in the 2009 Spring Season which include the Spring Dance Season at the London Coliseum, and four works by William Forsythe at venues including Tate Modern and South London Gallery in April 2009 and a new dance theatre production of Daniel Kramer's Pictures from an Exhibition at the Young Vic in May 2009." That's the press release. Sadler's Wells is pushing the boundaries, creating a buzz, and, hopefully, picking up a fresh young audience, if Shechter at the Roundhouse is anything to go by.
Peter Lathan reviewed an earlier version of this programme on tour at Nothern Stage, Newcastle, in 2008
Reviewer: Vera Liber