Sherwood
James Graham
BBC
Released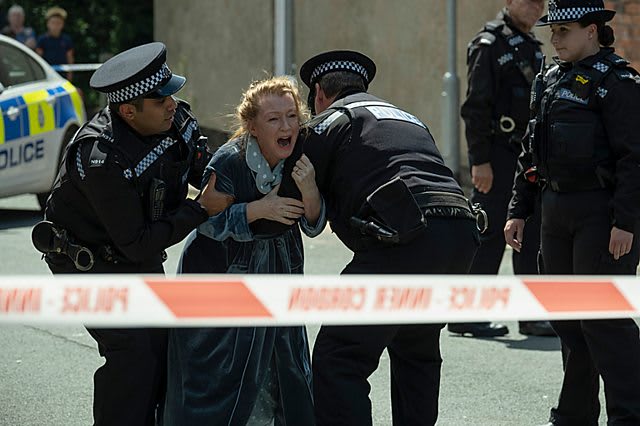 While theatregoers might resent the loss of opportunities to see new stage work as James Graham devotes himself to writing a six-part crime drama for TV, they and others will in return get the opportunity to watch a series that is almost certain to win awards.
The quality of the writing would guarantee that, even if the show had not been star cast.
Ostensibly, a tale that runs to almost 6 hours of playing time could be seen as a bog-standard police procedural, borrowing themes from the likes of Agatha Christie and Arthur Conan Doyle.
Most of the standard elements are there. In what was once a Nottinghamshire mining village, Gary Jackson a lippy ex-miner played by Alun Armstrong, is brutally murdered by a mysterious assailant with a crossbow.
It doesn't take long for stock issues to come to the fore. There are family members who haven't spoken to one another for decades, neighbours who detest each other with the word "scab" still able to wound, while almost inevitably, the two policemen on the job, David Morrissey as local lad Ian St Clair and Robert Glenister portraying fiery Detective Inspector Kevin Salisbury from the Met, are mismatched and competitive. Like so many others, they also have a history and hordes of skeletons hiding in cupboards.
As the dead man's wife Julie played by Leslie Manville mourns, bitter feuds from 40 years between adherents of the National Union of Mineworkers and Union of Democratic Mineworkers before come to the fore, which is where James Graham, who grew up in the area, is at his best.
Nobody under around 55 will understand the bitterness that remains from the miners' strike in the equally angry but non-Orwellian 1984, when Margaret Thatcher and Arthur Scargill dominated TV screens while the country ground to a standstill.
Rather than merely stopping at a simple murder mystery, Sherwood then explores numerous personal and political issues including such hot topics as embedded, undercover spy cops, police who infiltrate communities for decades as a means of undermining protest.
There are subplots galore, perhaps the most telling involving Andy Fisher, played by Adeel Akhtar, and his new daughter-in-law, Joanne Froggatt's Sarah Vincent, a humourless Tory councillor.
Insidiously, there are also comments that many viewers might think shine a light on what is going on in Britain today, none more so that when Lindsay Duncan's NUM solicitor talks of plans by Mrs Thatcher's government to "provoke a strike in nationalised industries".
As if that wasn't enough to wind up politicians, past and present, her thoughts on decades of police failings are almost as provocative at a time when the Met is being put into "special measures".
Ultimately though, the series becomes a wonderfully incisive view of humanity and the ways in which we prefer to feud rather than reconcile, regardless of the pain that this inevitably causes.
Sherwood stands out from its peers thanks to James Graham's willingness to expand a predictable genre in unpredictable directions, particularly with its historical and political elements, enhanced by his trademark sense of humour and, for those with the right technology, gorgeous camera work available in glorious Ultra High Definition quality.
Reviewer: Philip Fisher