She Stoops to Conquer, or The Mistakes of a Night
Oliver Goldsmith
Brockley Jack Studio Theatre
(2010)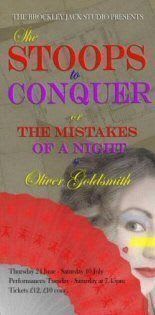 Our House by Madness is the perfect song to accompany the opening of this production of She Stoops to Conquer or The Mistakes of the Night where 1770s manners collide with 1980s fashions. It alerts us to the fact that the artistic approach is as subversive as the conduct that is about to be revealed.
To have Mr and Mrs Hardcastle playing Trivial Pursuits and Tony Lumpkin arriving on a skate board (did they have skate boards in the 1980s?) is, granted, taking something of a liberty, not to say a gamble, but the mix of period references is cleverly done and adds to the entertainment, rather than being a distraction.
And it's rather in keeping: after all, although Goldsmith's comedy of manners is an established and popular classic now, it was controversial at the time of its first production because of its, then, new style of comedy.
A plot summary is probably superfluous and it suffices to remind that true love emerges from a convoluted intertwining of mistaken identify, deception, elopement, pranks and tom-foolery and not a few Mistakes of the Night.
Director Kate Banister has chosen to emphasise the comedic and farce elements of the piece at the expense of the conflicts and antithetical postures that make She Stoops to Conquer a criticism of its society. In doing so, what comes across may be slightly thinner fare, but it makes a for a very funny evening's entertainment highlighting the paradox that both too much stupidity as well as too much cleverness can be both one's doing and undoing.
Daniel Brennan is first class as Mr Hardcastle, genial, content and unpretentious and an apt contrast to Kate Walsh's overbearing Mrs Hardcastle. Walsh balances her character's harridan qualities with some heart and tops off an energetic performance with a remarkable appearance sporting hairdo and makeup that are reminiscent simultaneously of Bette Davis in What Ever Happened to Baby Jane and a 1980s Goth.
Helen Clapp stands out as Kate Hardcastle, bringing to this ingénue an appealing girlish excitement at the prospects ahead as well as the nous to get the outcome she wants. Chloe Thorpe plays her friend and Mrs Hardcastle's niece, Constance Neville, as a delightfully bouncy companion.
Love interest is provided by two Prince Charmings in the form of 1980s New Romantics, Charles Marlow who comes in suit of Kate and his friend Hastings who, by coincidence, is in love with the pretty Constance. Lee Drage and Max Linsay play these two young bucks with enthusiasm and Received Pronunciation which sets them apart from the regionally-accented country folk and draws attention to the fact that the city boys are not only out of their territory but also out of their depth.
Their apparent sophistication makes James Garland's Tony Lumpkin, son of Mrs Hardcastle, all the more coarse. This slob of a boy has a nasty streak but Garland also manages to make him rather likable too.
Terrific support comes from Kate Sandison as Digory, the servant stiff with the fear of getting it wrong, and Darren Batten (alternating with Jonathan Dolling) as Charles' good-natured father.
What was striking with all the cast was their natural comic abilities but, on the downside, was a shared propensity to fluff lines. The lighting was not always on target either.
Karl Swinyard has come up with an understatedly neat and practical set and whoever thought of putting cocktail umbrellas in the tankards at The Three Pigeons Inn would get a mention if I knew their identity, even though it might reveal their age.
Martin Robinson's costume design is spot on. Mrs Hardcastle has the would-be Sloane Ranger up-turned collar and string of pearls, and Kate transforms from a punky 'Oxfam meets King's Road' look in the day time to a post-Annie Hall tie-wearing innocent by evening.
It takes a certain chutzpah to mix Adam Ant with Oliver Goldsmith but doing so is not one of The Mistakes of the Night.
"She Stoops to Conquer" plays Tuesday to Saturday until 10 July
Reviewer: Sandra Giorgetti