Shoot/Get Treasure/Repeat
Mark Ravenhill
A Gate Theatre, National Theatre, Out of Joint, Paines Plough and the Royal Court co-production
Various locations
(2008)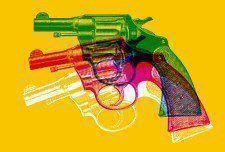 As part of the Edinburgh Festival Fringe last year, the Traverse, working with Paine's Plough, asked Mark Ravenhill to create a series of short plays lasting around 15 minutes each, and going by the collective title of Breakfast with Ravenhill.
It all sounded a bit Richard and Judy but turned out to be a controversial Fringe First Winner which built up a surprisingly big following in a city that had hardly gone to bed by 9.30 am and certainly wasn't hankering for more theatre at that time.
The project was facilitaed by using directors and actors who were already performing in town and were happy to get a little additional early morning exercise and publicity. They also had a lot of fun.
It seemed as if the project might die after these single performances but now, under the title Shoot/Get Treasure/Repeat, sixteen playlets are to be performed with top casts across London during an April fortnight and the text has been published.
BTG will review as many live performances as time permits and then any stragglers from the book.
Crime and Punishment (RNT Cottesloe)
Intolerance (RNT Cottesloe)
The Mikado (RNT Lyttelton)
The Odyssey (RNT Lyttelton)
The Mother (Royal Court)
Birth of a Nation (Royal Court)
Fear and Misery (Royal Court)
War and Peace (Royal Court)
Paradise Lost (Paines Plough at Village Underground)
Love (But I Won't Do That) (Paines Plough at Village Underground)
The Trojan Women (Paines Plough at Village Underground)
War of the Worlds (Paines Plough at Village Underground)
Twilight of the Gods (Paines Plough at Village Underground)
Armageddon (Gate Theatre: reviewed from the text)
Women in Love (Gate Theatre: reviewed from the text)
Yesterday an Incident Occurred (Radio 3)
Reviewer: Philip Fisher