Shrieks of Laughter
Moses Raine
Soho Theatre
(2006)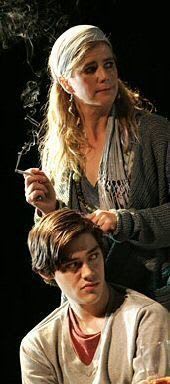 Many might feel that it is positively indecent for a theatre to produce a play written by a 21 year old. The jealousy levels will then rise exponentially if the young playwright has a distinctive and energetic authorial voice and something interesting to say.
Moses Raine is the latest writer to emerge from Soho Theatre's Writers' Attachment Programme. Its success was made apparent by the opening night presence of (at least) two award-winning predecessors, Rebecca Lenkiewicz and Laura Wade. The biblically-named newcomer may not have too long to wait before he follows suit.
Shrieks of Laughter is less than an hour long but it manages to combine elements of Martin Crimp and Samuel Beckett.
Teenaged schoolboy Hen(ry), played by Tom Payne, is the focus within Jon Bausor's shiny, futuristic set, which hides a pool of water.
The play features snapshots from his life, induced by a session with Clarence Smith as the shrink who hypnotises him into "the black abyss". In an explosive flash, we find ourselves in Hen's past with his weird family.
Imogen Stubbs plays his supportive, chain-smoking mother who, with her hippyish clothes and tendencies, would be most boy's dream.
Quite how she ended up with the drunk played by Sam Cox who is Hen's stern but wilfully boring ex-army father, must remain an unsolved problem in such a short play. The third family member is Hen's mildly unpleasant brother, Oliver Coleman's Tom, who is only too happy to ape his father's bullying manner.
Raine has a talent for writing pacy, realistic speech that can be elliptical or meaningful by turns. He builds up an air of suspense, aided by a degree of mystery as the family are seen in a series of discrete scenes, getting louder and drunker, while hardly moved by a sea-bound disaster reported on their short wave radio.
It is only in the last long and poignant scene between mother and son that all is made at least a little clearer and what had seemed an inchoate play gains meaning.
Shrieks of Laughter is a highly promising debut from a writer who should have a great future. He not only demonstrates a way with dialogue but has the sense to stick within his limitations and avoid the danger of overstaying his welcome, and that is a rare gift.
Reviewer: Philip Fisher