Shrunk
Charlotte Eilenberg
Cock Tavern Theatre, Kilburn
(2010)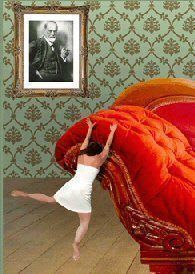 It seems, and indeed is, a long time since Charlotte Eilenberg's multi-award-winning debut play, The Lucky Ones, proved such a success at Hampstead, the theatre where she was once press officer.
Its follow-up, just down the road in Kilburn, is a psychological comedy two-hander set in the comfortable ground floor consulting room at the home of Jungian psychotherapist, Max Goldman. There, he welcomes a new patient and, in doing so, introduces all kind of traumas into both of their lives.
The first quarter of this 80 minute drama might have been christened Analysing Rita, since that is the name of the pretty, deserted wife played by Amanda Ryan.
The session runs to form as Jack Klaff's white-haired analyst plays a dull, straight bat to every googly offered up by his visibly stressed patient.
Just as you begin to wonder whether this plot is going anywhere, the mildly disturbed woman pulls a gun out of her handbag and suddenly we are in a completely different play.
The tables are almost literally turned as the gun-toting patient, picking up on a theme from the evening's opening, begins simultaneously to analyse poor old Max, take him through a bizarre variation on Desert Island Discs and dredges up not terribly well buried truths hidden in her own psyche.
It transpires that Celia, as Rita has now become, was married to an opera composer who left her at the behest of his own analyst. In a play with only two characters, it does not take a genius to work out who that analyst that was and why a pistol is pointing at his head.
The man who had been cool as a fish finger suddenly begins to panic and reveal his own innermost secrets, while simultaneously taking part in a gently amusing situation comedy.
With a little assistance from each of their spouses, the play takes an unexpected twist, giving it rather more depth than had ever seemed likely.
Charlotte Eilenberg has written a clever and at times witty exposé of therapy culture in which, at times, it can be difficult to tell whether doctor or patient is less secure.
The piece may need a little further development and building up if its producer, theatre critic extraordinaire Mark Shenton, plans on a West End transfer. Even so, Shrunk should please audiences in north-west London, although arguably a theatre in the centre of Hampstead rather than just beyond its borders might have been a more appropriate home for a work about psychoanalysis.
Reviewer: Philip Fisher